Unlike it's comic-competition, Marvel seems to know how to better orchestrate it's superheroes fighting one another, because Captain America: Civil War is infinitely more entertaining than Batman V Superman: Dawn Of Justice & not as predictable. With all the Avengers returning & some new faces, the third Captain America keeps up the Marvel movie standard, with entertaining action, humour & a strong plot woven through several different characters' perspectives.

The Plot:
After the actions of The Avengers in Sokovia (Avengers: Age Of Ultron), the United Nations has deemed The Avengers unpredictable & dangerous. The super-team is presented with a government sanctioned Accord by Secretary Of State Thaddeus Ross (William Hurt) that states that they will have to follow direct orders from a council of the United Nations, that will determine when & where they should be – and who they should save. This notion is backed by Tony Stark/Iron Man (Robert Downey Jr.) who believes that with their abilities come the responsibility of their actions & that without restrictions, they are no better than the ones they're trying so hard to stop. Captain America(Chris Evans) on the other hand believes that The Avengers have to act on their own free will & that the U.N. would take bias & send them to locations that don't need help as much as others.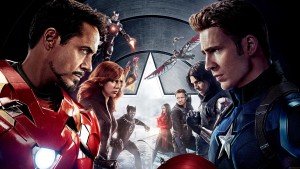 This story is the backdrop to the political problem that is The Winter Soldier (Sebastian Stan) – while he is highly dangerous & still not sure of his true identity, he is blamed for the murder of the Wakandan King T'Chaka, leading to the introduction of Black Panther (Chadwick Boseman) (my new favourite character). Although The Winter Soldier is constantly on the run, Captain America believes in him. All while a mysterious Dr. Zemo (Daniel Bruhl) puppeteers The Avengers into destroying each other from within.
The culmination of all these events & more lead to the epic fight between the two sides: Captain America (Chris Evans), The Winter Soldier (Sebastian Stan), Falcon (Anthony Mackie), Ant-Man (Paul Rudd), Scarlet Witch (Elizabeth Olsen) & Hawkeye (Jeremy Renner) on one side and Iron Man (Robert Downey Jr.), War Machine (Don Cheadle), Black Widow (Scarlett Johansson), Vision (Paul Bettany), Black Panther (Chadwick Boseman) & Spider-Man (Tom Holland) on the other.

Captain America: Civil War Review:
The director's of Captain America: Civil War (Anthony & Joe Russo) managed to continue Marvel's great streak of superhero films with fantastic timing both in pace of action but also in humour & deliverance of story. With nearly three stories going on at the same time, with 12 different superheroes having their own stories interweaving, the Russo brothers managed to pull off a swift & seamless story. The action
Girl Power:
Scarlett Johansson as Black Widow is one of those characters that always seems to be used to fill in plot holes or connect characters but in this film she proved she's worthy of her own film franchise because she could easily kick everyone's butt if need be. Sharon Carter showed her skills as a force for S.H.I.E.L.D. when she tried to apprehend The Winter Soldier all by herself.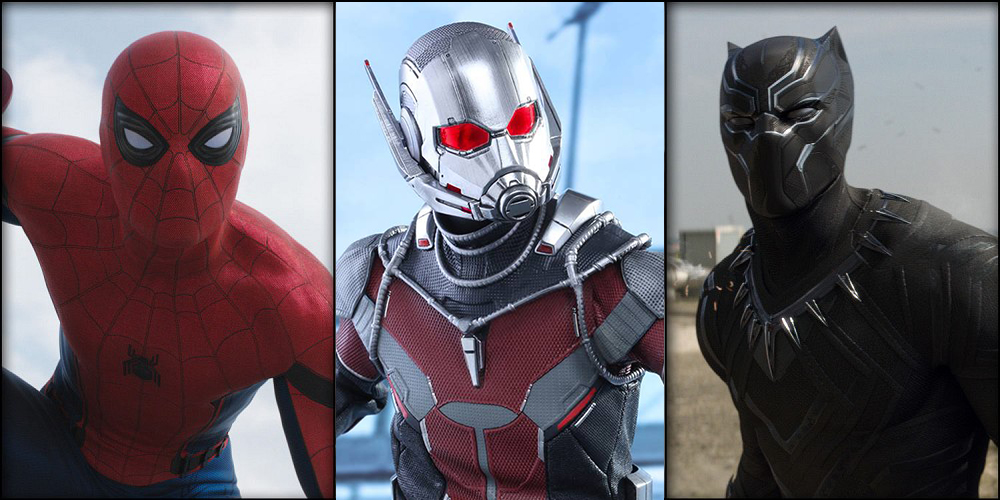 The new recruits: Black Panther, Ant-Man & Spider-Man
Ant-Man (Paul Rudd) joins the disassembled Avengers and fits in while sticking out like a sore thumb in the crowd. Iron Man (Robert Downey Jr.) remained the force stubborn but he believes he's right & stuck to hi guns with a bag full of new suit tricks. Black Panther (Chadwick Boseman) is officially my new favourite badass. He's got the moves, the suit & even the class; he's like an African James Bond. Last but not least: Spider-Man (Tom Holland) has a pretty fun introduction into the Marvel Cinematic Universe, because (unless you live under a rock & didn't know) Sony holds the character rights to Spider-Man and is playing nice with Marvel (Disney) to "share" the character from time to time. The first time being now, in Captain America: Civil War & the second being a standalone Spider-Man film called Spider-Man: Homecoming, that just signed on Robert Downey Jr. to come in as Iron Man. A fitting character to be involved in both films seeing as he's the one to approach Peter Parker & convince him to fight.
All together Captain America: Civil War delivered the hype it built up, introduced new awesome characters & even managed to balance a good level of humour into a film entirely based on friends beating each other up.
What are your thoughts on Captain America: Civil War? What was your favourite line from the film? Which of the new superheroes (Black Panther, Ant-Man & Spider-Man) do you think is the best?
Comment below and let us know!
5/9/2016 – 12:05 am
by James