Rogue One: A Star Wars Story will tell the story of Jyn Erso (Felicity Jones) & the rebels who steal the Death Star plans prior to Star Wars: A New Hope.

5 THINGS LEARNED FROM THE 'ROGUE ONE: A STAR WARS STORY' TRAILER
1. Felicity Jones is our main rebel Jyn Erso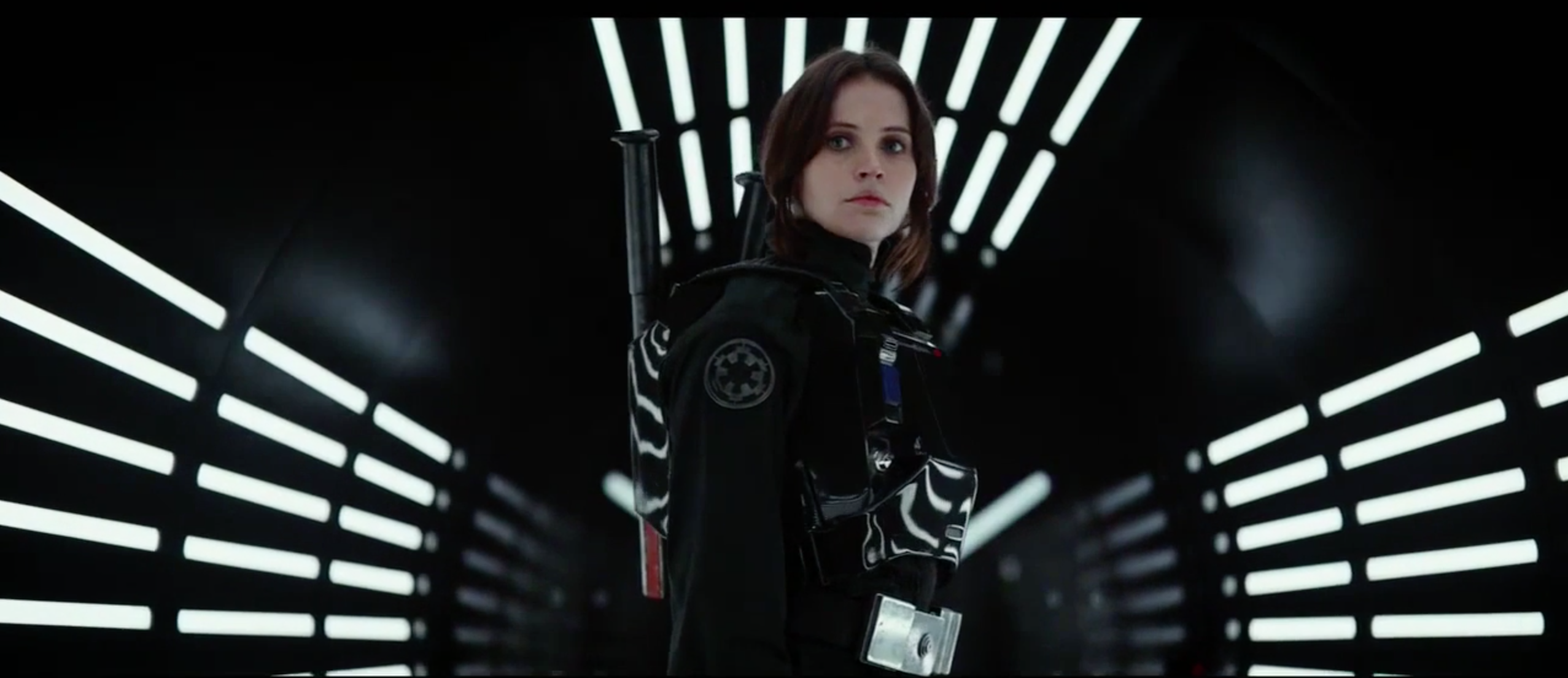 Star Wars has had success with strong female characters as of late with Daisy Ridley as Rey in The Force Awakens. Our new female lead is Felicity Jones as Jyn Erso, who is a rebel that's enlisted by the Rebel Alliance to… rebel & she does it well. Not only does she beat up a group of storm troopers, but she appears to be the final one to survive & steal the plans (as she's disguised as a storm trooper above).
2. Diego Luna is our rebel captain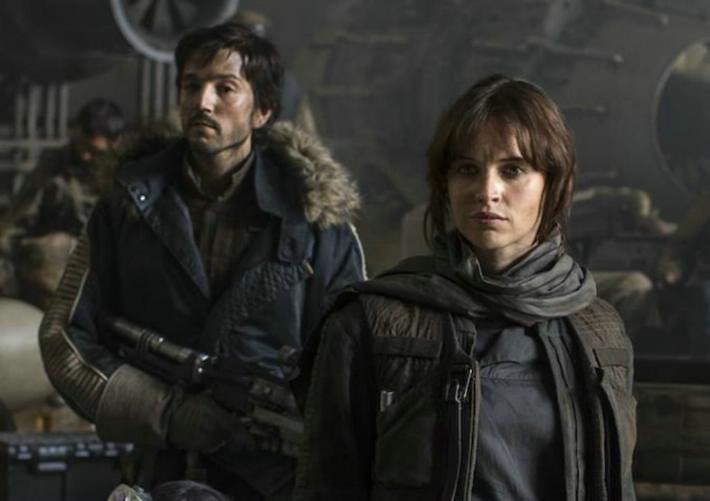 Little has been reveled about Diego Luna's character, but the trailer hints towards him being in charge of this rebel group, acting as the captain to Jyn Erso & the other rebels. He certainly looks like he can hold his own in combat & could surprise us.
3. The Emperor will be making an appearance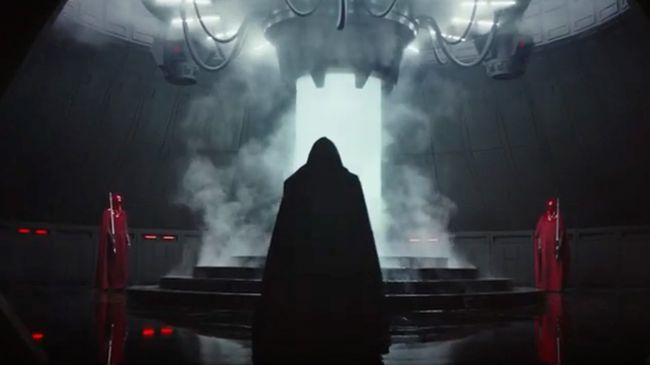 The Emperor is an iconic character throughout both the original & prequel Star Wars trilogies, in fact the only Star Wars film he wasn't in was The Force Awakens. From the looks of this trailer (most specifically the shot above), the iconic red guards on either side of what could be our first look at The Emperor in Rogue One: A Star Wars Story.
4. Not a lightsaber in sight, but perhaps there are Jedi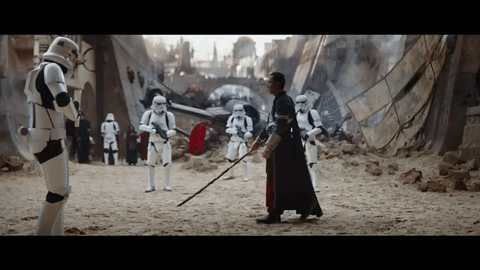 Donnie Yen's character hasn't been revealed & his connection to the group hasn't either. Although from the trailer it appears he certainly has combat training with that stick…
Could Donnie Yen be playing a Jedi in hiding? Very possible.
5. Genevieve O'Reilly is (back as) Mon Mothma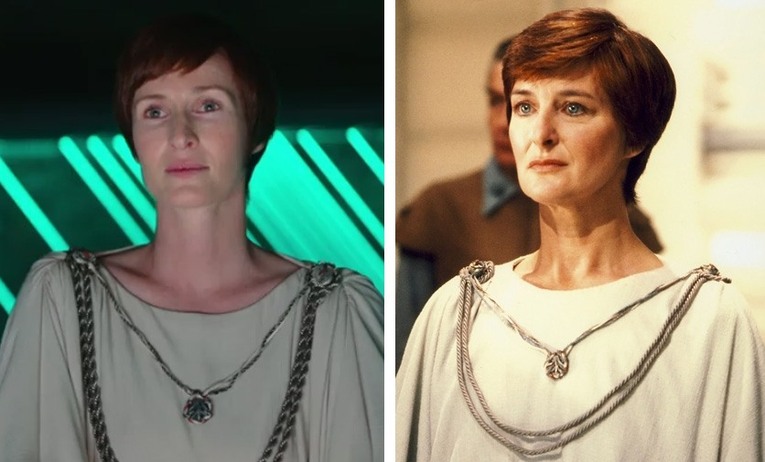 Bear with me here. Caroline Blakiston (above right) was Mon Mothma in Star Wars: Return Of The Jedi, and Genevieve O'Reilly (above right) was cast to play the same character in Star Wars: Revenge Of The Sith but her scene didn't make the final cut. But now, Genevieve O'Reilly is getting the chance to portray the character in another prequel to Star Wars: A New Hope. The likeness is uncanny!
5 QUESTIONS RAISED BY THE 'ROGUE ONE' TRAILER
1. Is Jyn Erso the mother of Rey?
Disney is making a statement by casting female leads in both of their Star Wars films and naturally the assumption is there must be a connection. So, could Jyn Erso (left) be the mother of The Force Awakens' Rey (right)? The age difference makes sense as they are similar in age in their respective films, but Rogue One takes place 30+ prior to The Force Awakens. Making it (at least) possible that after the events of Rogue One, Jyn could have given birth to Rey & at some point left her on the planet Jakku. Both actors have denied the connection, but there's still a possibility this fan-theory plays out.
2. Is Diego Luna playing Biggs?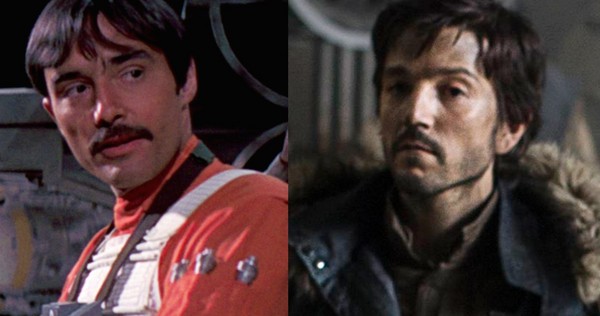 Speaking of fan-theories – a slightly more interesting one is the uncanny likeness between Diego Luna (right) and Garrick Hagon as Biggs (left) in Star Wars: A New Hope. Most specifically their involvement in the Rebel Alliance & their moustaches…
3. Will we see any Original Trilogy characters?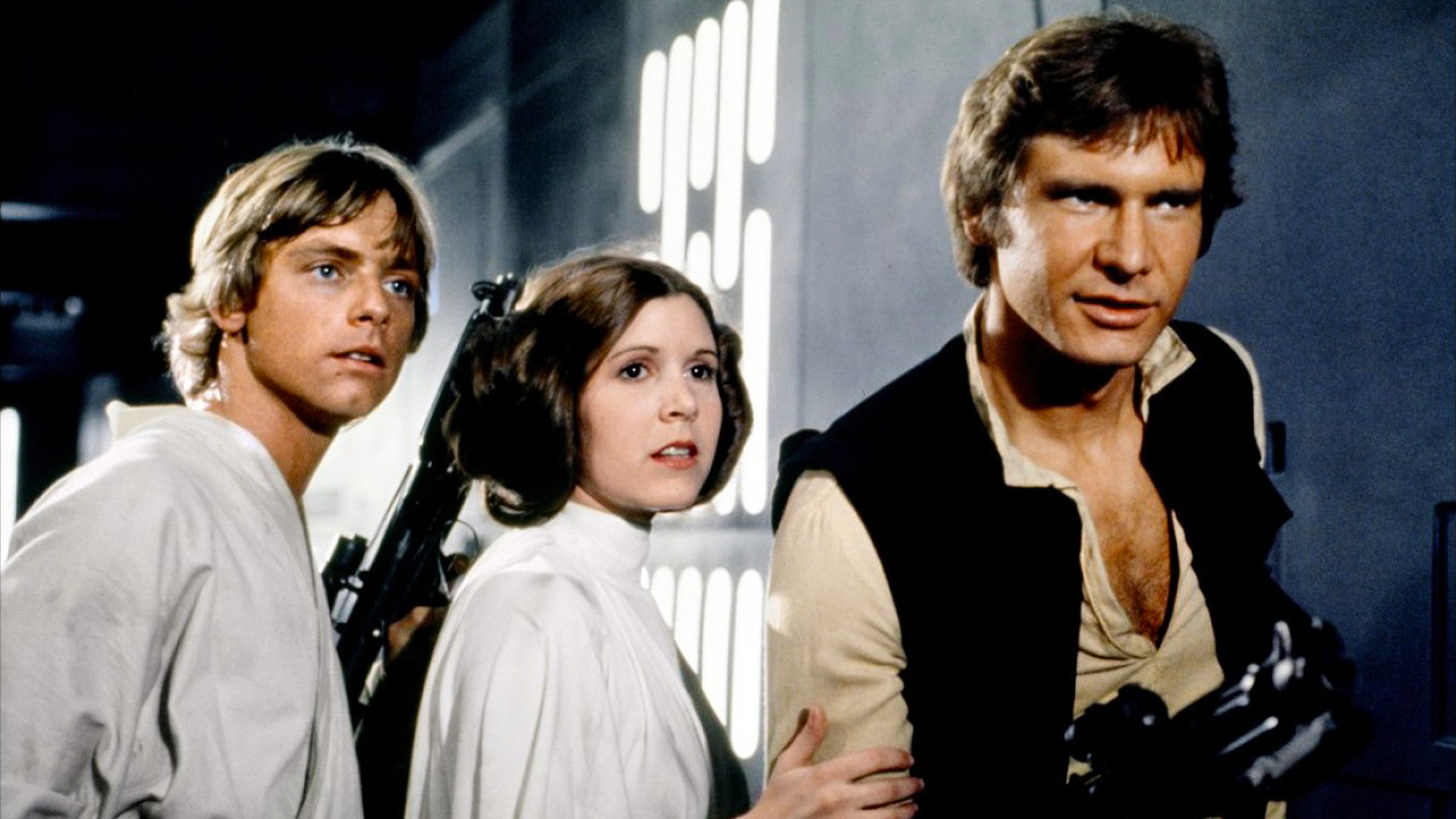 While this movie is set as a prequel A New Hope, there is a chance we might see some younger faces of OT characters. The most rumoured is that a young Han Solo will make an appearance – leading to his own standalone film set for 2018.
4. Who will Alan Tudyk,
Mads Mikkelsen & Riz Ahmed play

?

It's been rumoured that Alan Tudyk will portray a motion capture character, but there haven't been any details released, so the best guess so far is that he is this robot: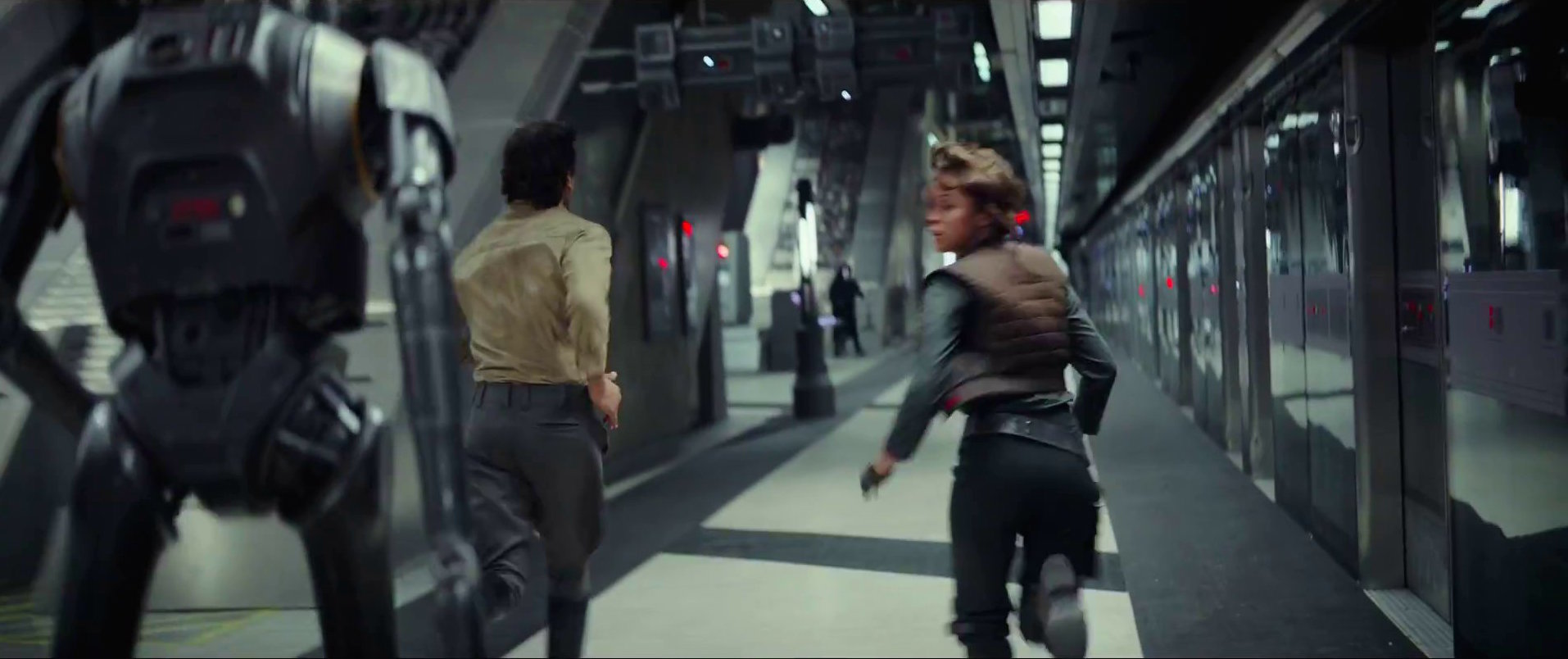 But as of yet, there hasn't been confirmation of either of the other two's characters. Although from the first official photo of Rogue One, it appears Riz Ahmed will play an engineer of some sort.
5. Will ROGUE ONE truly be a standalone film or will Disney milk it's success?

Disney is known for capitalizing on it's investments & milking their franchises for years & years. Not only does Disney now one Marvel, but it also owns Lucasfilm, which means all the rights to Star Wars & Indiana Jones. On the cusp of the announcement that Indiana Jones 5 is coming, this trailer debuted & one can't help but wonder if Disney's original plan (of releasing Star Wars 7, Rogue One, Star Wars 8, Han Solo, Star Wars 9 & an untitled anthology film) year after year may change if Rogue One is successful. Especially if the characters work well together & have great chemistry. Well, seeing as the majority of the characters are new, this means a great deal of them will either die or go into hiding by the end of Rogue One, so that the events of A New Hope can successfully happen.
What did you think of the Rogue One trailer? Any thoughts on the characters? What do you think of Felicity Jones as Jyn Erso?
COMMENT BELOW AND LET US KNOW!
4/15/2016 – 2:00 am
by James