Watch Jon Snow Kit Harrington and Andy Samberg go at it in the trailer for the star-studded mockumentary about two tennis rivals playing a 7 day game.

"If the pressure of winning Wimbledon wasn't enough, now he's got a dead body on his hands," the announcer speaks of Samberg's Aaron Williams, adopted sibling of Serena Williams, in a reverse Blind Side. "Second serve now, after killing a man."
(Source ScreenCrush.com)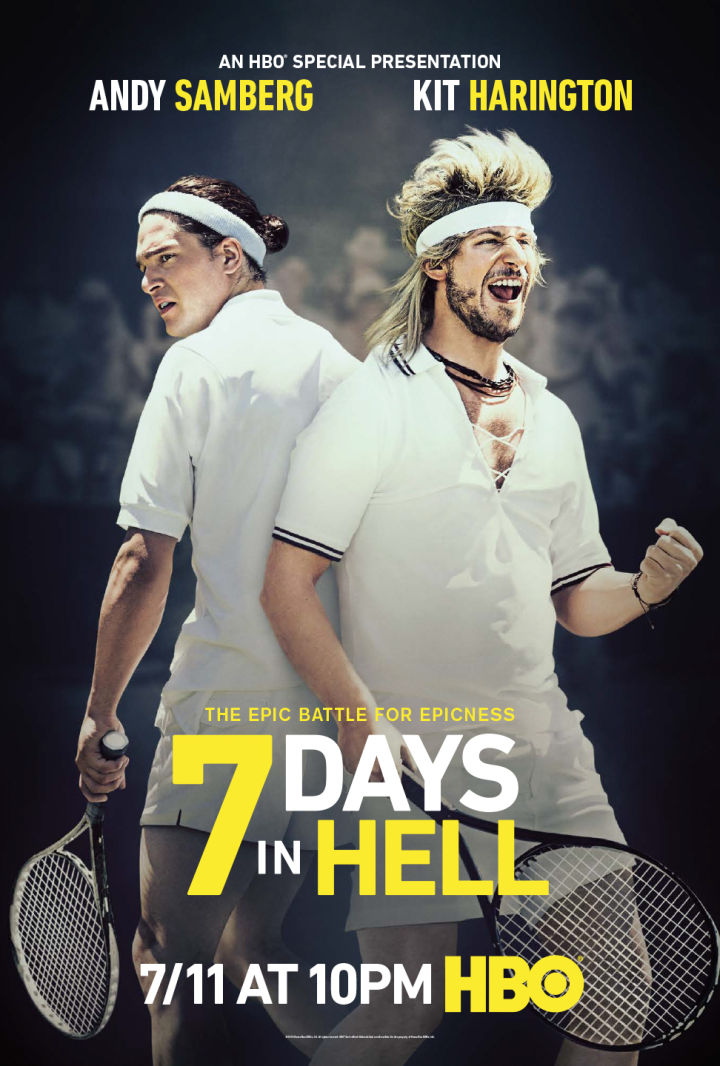 HBO describes the show as
"This sports 'documentary' brings together Andy Samberg and Kit Harington for a look back at a pair of fictional players from the not-too-distant past, who played the longest and greatest tennis match of all time: a seven-day, five-set marathon that took literally everything out of them. In addition to highlights (and lowlights) from the match, the special looks back at the lives and careers of the competitors: Aaron Williams (Samberg), a hyper-malcontent, and Charles Poole (Harington), a dim-witted prodigy who carried England's hopes for a tennis champion on his shoulders."
Along with Andy Samberg and Kit Harrington, the HBO specials cast includes Will Forte (Last Man On Earth), Fred Amisen (SNL), Lena Dunham (Girls), Serena Williams and John McEnroe. To add on top of that, June Squibb is playing the Queen, Howie Mandell, David Coppperfield, Chris Evert, Michael Sheen and Karen Gillan as secondary characters.
7 Days In Hell will premiere on HBO Saturday July 11rh, 2015, but would be worth seeing in theaters with the comedy packed trailer above.
What are your thoughts on the trailer? What about the mockumentary itself? Will you watch it when it premiers next month?
Comment below and let us know!
6/23/2015 – 3:12 pm
by James