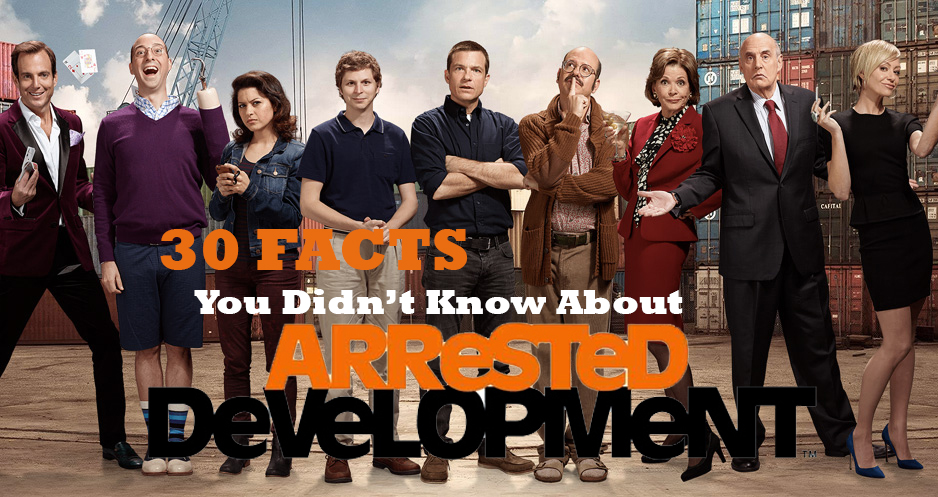 30 Little known facts about Arrested Development
#1. Liza Minelli played "Lucille 2" as a favour.
– The crew had a hard time casting "Lucille 2", and that's when the shows narrator, Ron Howard, asked his childhood babysitter Liza Minelli, and she said yes.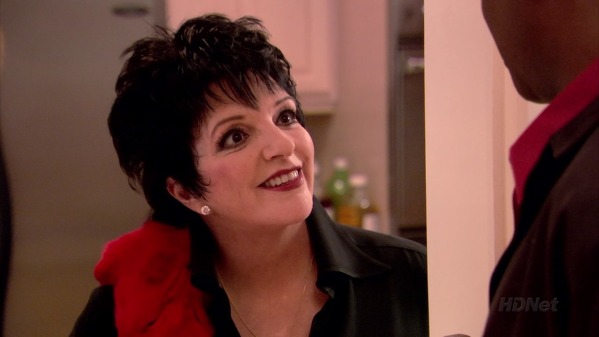 (Source Dailypix.me.com)
#2. The pilot episode was completely different from the rest of the series.
The model home that Michael & George Michael live in was completely different in the pilot episode. Same with Lucille's apartment. George-Michael had a darker complexion, Tobias had different glasses and Buster had longer hair. After the pilot, the sets were changed and so were the glasses, Buster's hair and George Michael's skin.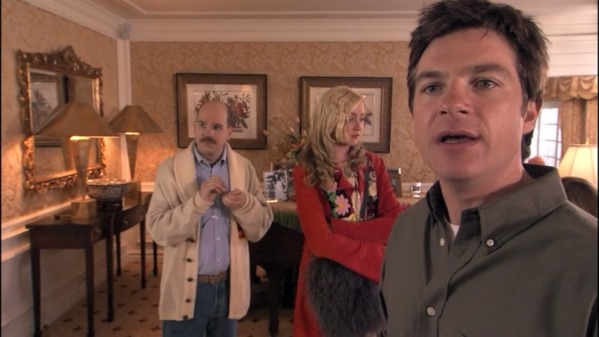 (Source Dailypix.me.com)
#3. Lucille is real.
Lucille Bluth is actually based on the show's creator Mitchell Hurwitz's mother, also named Lucille. The name "GOB" and the way to pronounce it ("Jobe"), are based on one of Hurwitz's relatives who also goes by his initials: "GEK" (pronounced "Jeek").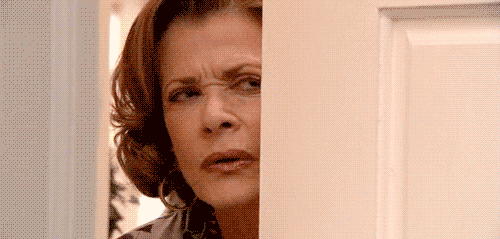 (Source FunnyOrDie.com)
#4. "Her?" is a casting joke, and not a joke about the character.
Mae Whitman, who plays the character more commonly referred to as "her?" then her actual name: Ann, wasn't the first one to play the role. In the season one finale, the character Ann is introduced, but an actress named Alexandra Torresanni played Ann for all of one episode, and only showed her face for a matter of minutes. Mae Whitman was brought in to replace her in season two. The casting change was supposedly made to be a joke as Michael repeatedly forgets what she looks like and Maeby calls her "No Face".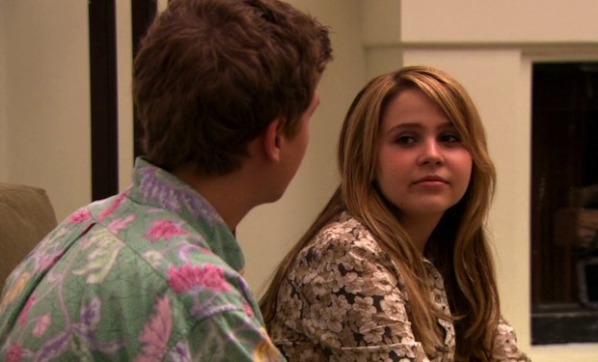 (Source Dailypix.me.com)
#5. There were three different Martas
Three different actress have played Marta Estrella, the love interest for both Gob and Michael. Patricia Velasquez, Leonor Varela and an uncredited actress.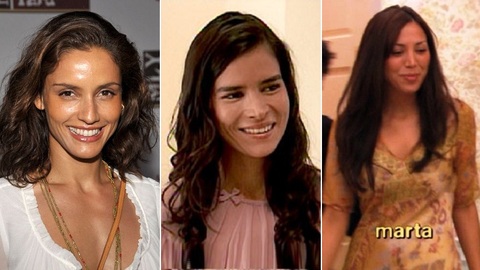 (Source Pajiba.com)
#6. Dwight Schrute as Gob?
Will Arnett wasn't the first pic to play Gob. Rainn Wilson was. After Arnett beat him for the role, Wilson went on to play Dwight Schrute in The Office.



(Source Dailypix.me.com)
#7. Every ending is a fake beginning for the next show
Every episode ends with a segment narrated by Ron Howard that begins with the words: "On The Next… Arrested Development". But the fact is that each of the "previews" for the next episode, never happens in the next episode, but they always seem to go along with the continuity of the series' story.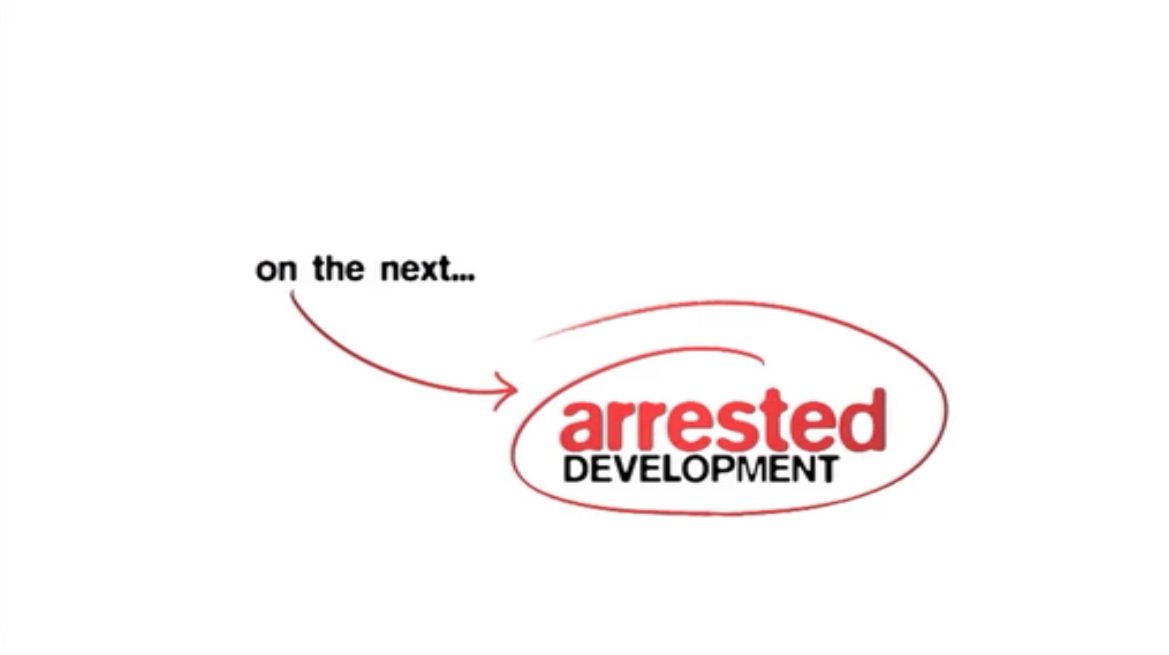 #8. Fonzy jokes don't get old
There are several jokes/references to Henry Winkler playing "the Fonz" in Happy Days. In Arrested Development, Winkler plays the Bluth family's lawyer Barry Zuckerkorn, who eventually gets replaced by Bob Loblaw (Scott Baio), reference number one. In the episode entitled "Justice is Blind", he combs his hair in the mirror, just like he did in the opening credits of Happy Days. In another episode entitled "Motherboy XXX", a shark bites off the tracking device off the seal, that bit off Buster's hand, and Barry Zuckerkorn jumps over the shark to get away, a reference to an episode of Happy Days, where his character jumped over a shark.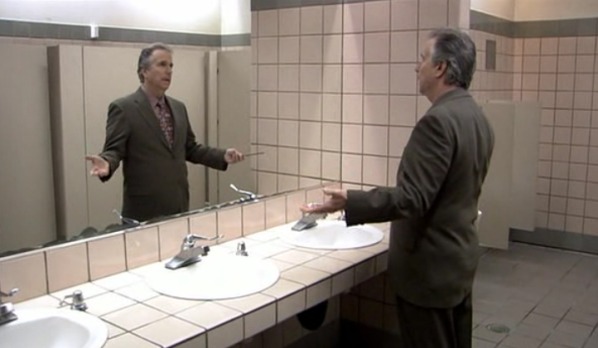 (Source Dailypix.me.com)
#9. Buster's worst enemy is a Loose-Seal. cough. Lucille.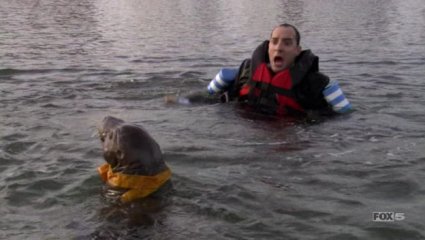 (Source Tumblr.com)
Buster loses his hand because a seal bites it off. The seal got loose from it's cage because Gob let it go into the ocean. It is literally a "Loose Seal". An obvious joke, because Buster's mothers name is Lucille…
#10. Tobias is an albino black man.
This plot line never got followed through, some people think it may be because Fox cut both the second and third season short, but the joke was set up early on.
From the episode "Afternoon Delight":
Tobias: I am surprised that she's going after somebody so similar to my own type.
(in reference to Lindsay flirting with Ice the Bounty Hunter, from the episode "Good Grief") Lindsay: People hear the name Tobias, they think 'big black guy.'
Tobias: Well, obviously, I'm not a big guy. I'm not a Carl Weathers, par example.
Also from "Afternoon Delight"
Lucille: Michael. I was almost attacked last night in my own home. I walk in and there's a colored man in my kitchen.
Michael: "Colored?" What color was he exactly?
Lucille: Blue.

Lindsay (to Maeby): I don't know where that hair of yours came from. (in reference to how Maeby's frizzy hair hurt her chances in child beauty pageants, from the episode "Notapusy")
And then, there's Tobias' book: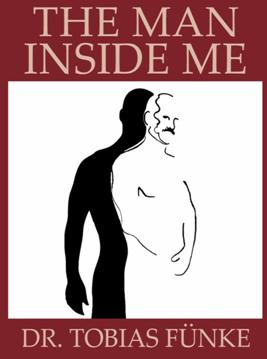 (Source Splitsider.com)
#11. Arrested Development is a band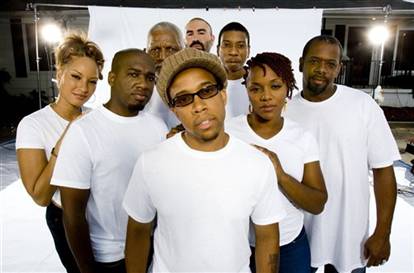 (Source Wikipedia.com)
The show got sued for using the same name as a band (Arrested Development), and a large amount of money was given in the settlement (unknown amount). The episode entitled "Motherboy XXX" makes a joke that the pageant called "Motherboy" is not affiliated with the band "Motherboy" (a cheeky reference to the band named Arrested Development), also, they show a picture of what the band looks like, and it may have some "Bluth" influence…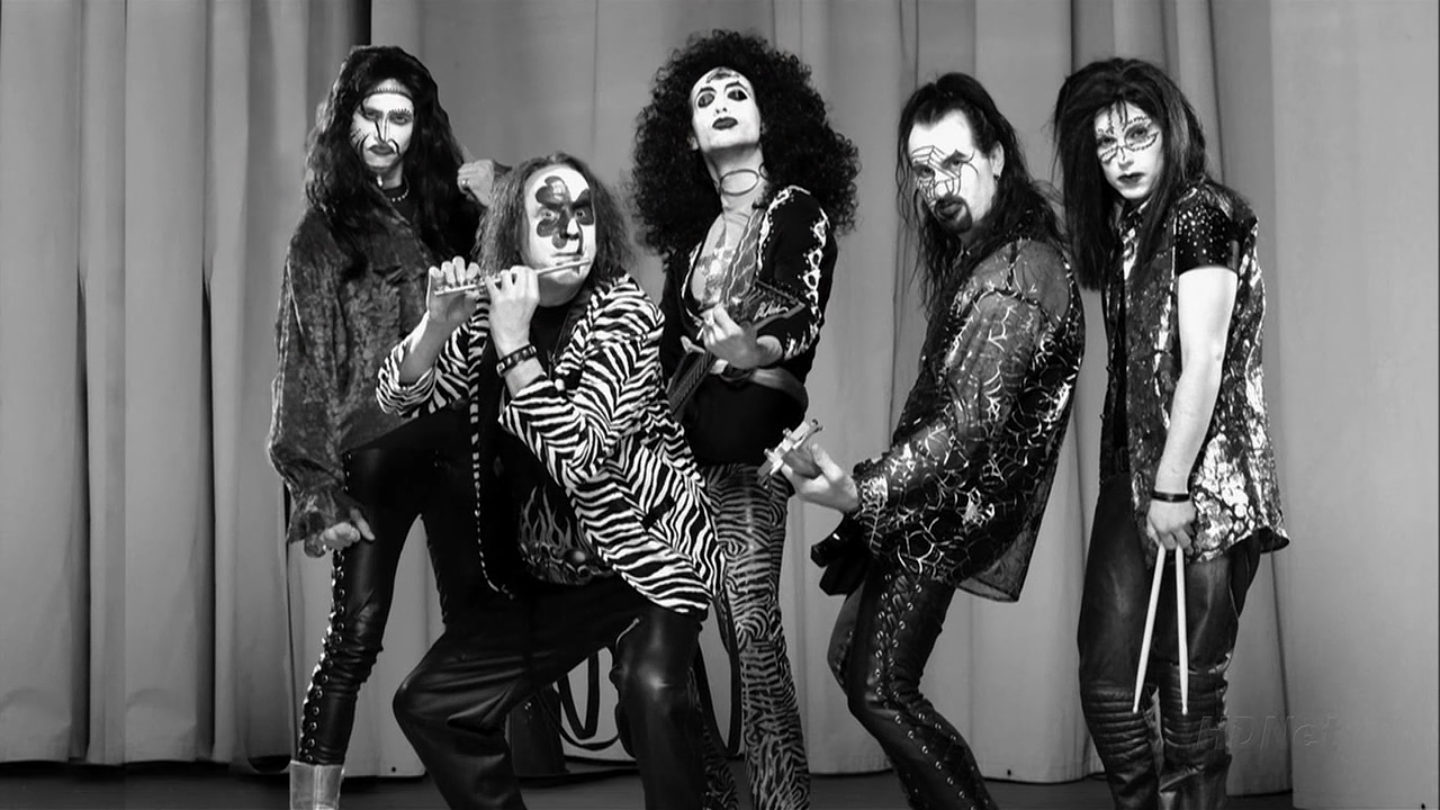 (Source Nocookie.net)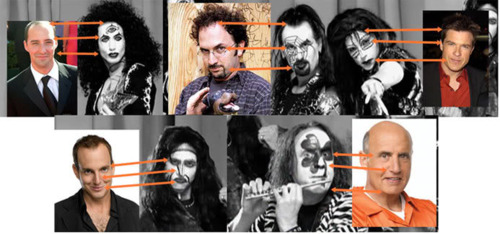 (Source webewatchinstuff.com)
The man in the middle is Robert Smigel
#12. There's an episode where Buster gets his hook stuck in the stair car dashboard while dancing to "Mr. Roboto", this is a reference to Tony Hale (Buster)'s commercial where he is singing that song.


#13. Every time Gob (Will Arnett) does any form of magic, the song "The Final Countdown" by Europe plays.

#14. Ron Howard became the narrator by accident. 
Though some claim it to be a genius idea, Ron Howard's role as the narrator for the show was completely accidental. While the executive producer/former "Happy Days" star was attempting to finalize the pilot with the cast and crew, he was merely filling in for the role which evidently stuck because it just "worked".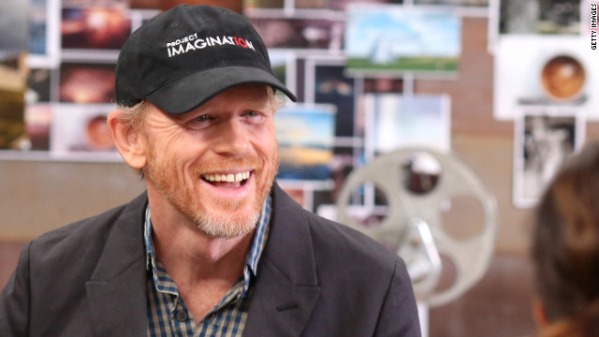 (Source Dailypix.me.com)
#15. "Never Nudes" are real.
It's called gymnophobia, and it's a real condition.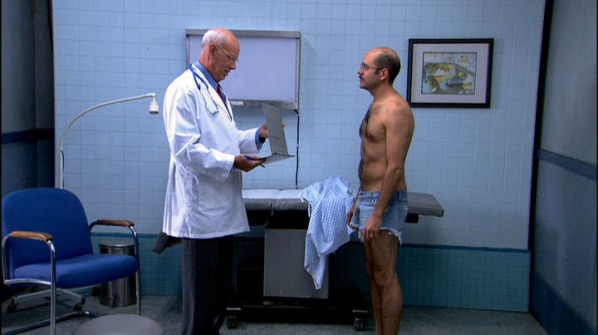 (Source Dailypix.me.com)
#16. Every character has a different "chicken"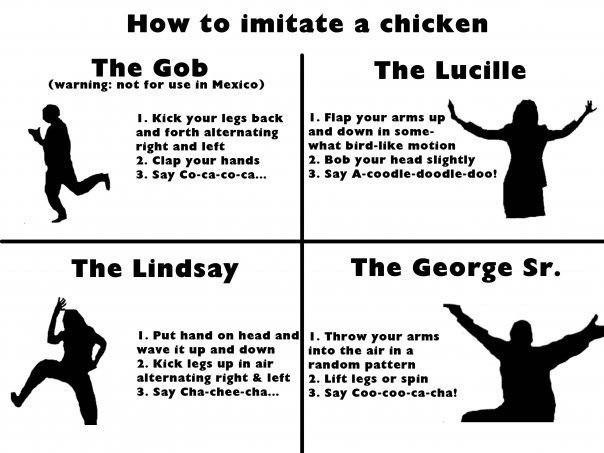 (Source ArrestedDevelopmentWiki.com)
http://vimeo.com/66596538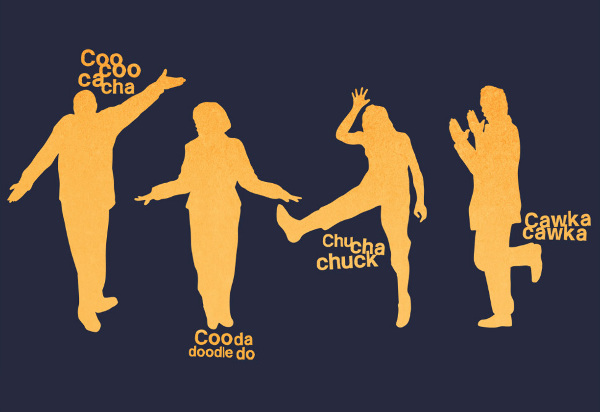 (Source T-ShirtVortex.xom)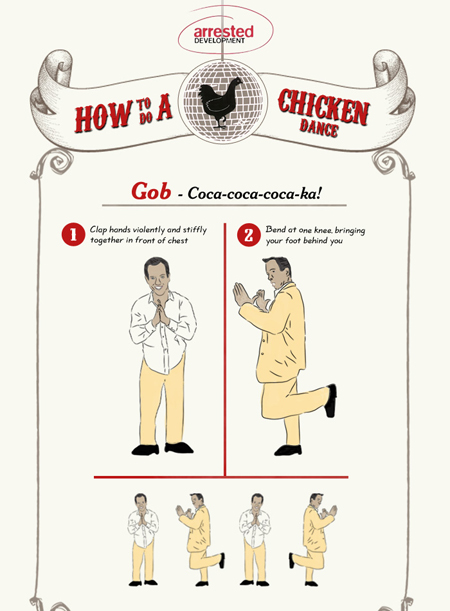 (Source USDish.com)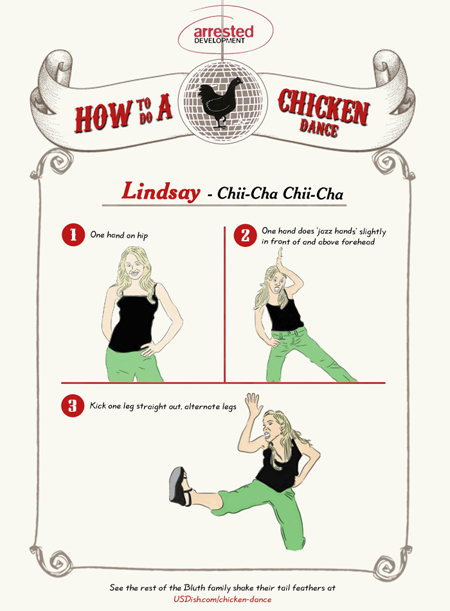 (Source USDish.com)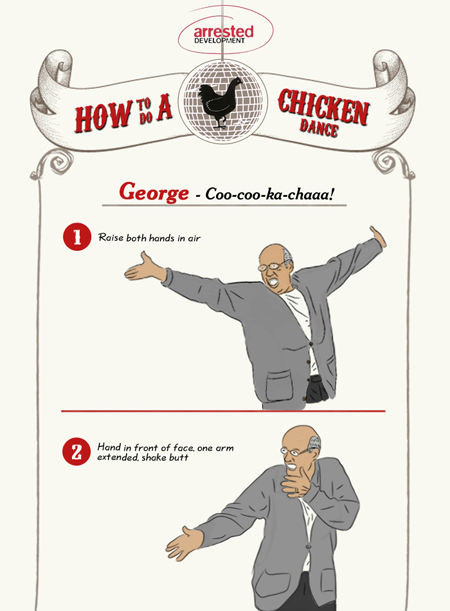 (Source USDish.com)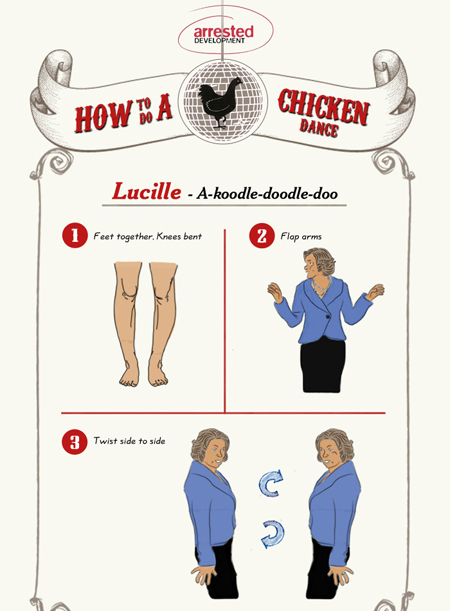 (Source USDish.com)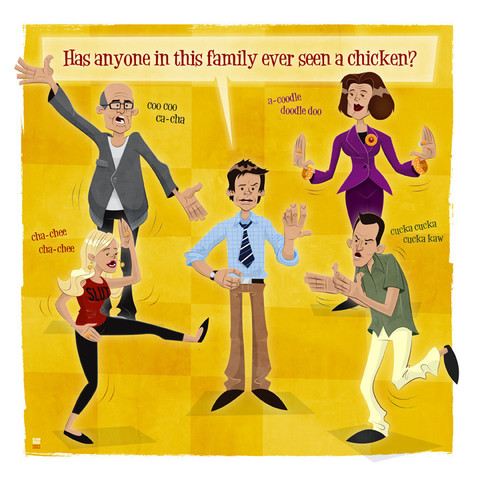 (Source FanPop.com)
#17. Tobias & George Sr. were not supposed to last.
Neither David Cross or Jeffrey Tambor's characters were meant to be regulars on the show, but they bonded so well with the rest of the cast that they were written in as full time characters.
#18. The show is shot as a documentary, so all the swearing is bleeped out, and whenever someone swears their mouth is covered or the camera is switched to another character.
#19. Lucille's housekeeper Lupe is always wearing the Bluths' old holiday clothing that is two holidays behind. In "In God We Trust," she wears a "BOO!" sweatshirt during a Christmas party. In "Marta Complex," she wears a "Gobble Gobble" sweatshirt on Valentine's Day. In "The Cabin Show," there's a flashback to 1994 in which she's wearing a Bush/Quayle sweatshirt.
#20. The show had really small parts for actors that are now big names, including Armie Hammer, Simon Helberg, and Jack McBrayer.
#21. NetFlix rated every other show with stars, but Arrested Development is rated with bananas.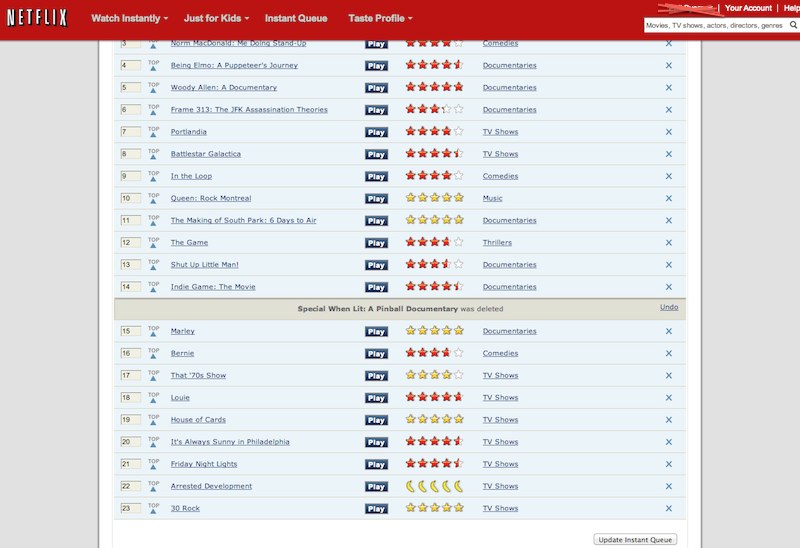 (Source Hypervocal.com)
#22. In "Public Relations," George-Michael is at the banana stand talking about how he "managed to send a bum away without hurting his feelings." Then, there's a shot of a homeless man with a "Bluths Bananas" balloon (with the Bananagrabber on it).
Later on in the episode, there's a shot of a newspaper and a tiny headline at the bottom reads "Bum Gets Balloon":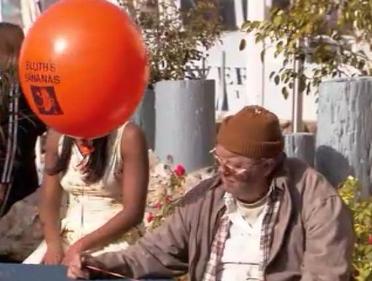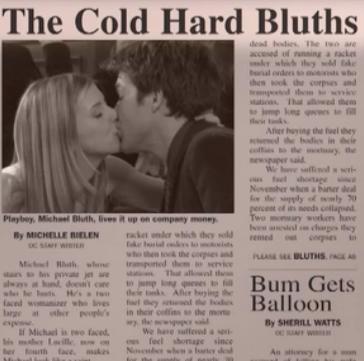 #23. The gag about Maeby's alter ego Surely's name being a play on her own name is a pretty obvious one, but another of George-Michael's love interests, his ethics teacher Miss Barely (Heather Graham), also has a name that plays off of Maeby's.
#24. In "Afternoon Delight" when the banana stand is pulled out of the sea after being vandalized by teenagers, the graffiti is tough to read but it seems to say, "I'll get u Bluths – Hello." This is a full season before it's revealed that Annyong's real name is "Hel-loh" and that he is determined to get revenge on the Bluths.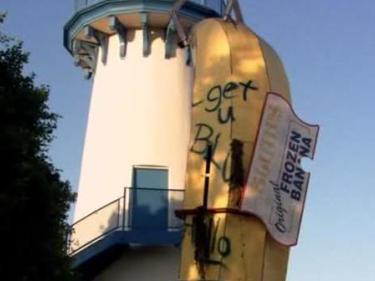 #25. This may only be something that Southern Californians noticed, but John Beard, the Fox news anchor who appears throughout Arrested Development, is an actual newsman who anchored the Fox evening news for the Los Angeles affiliate, KTTV, from 1993 to 2007. KTTV was also Orange County's Fox affiliate, meaning Beard was the real newsman for the place where Arrested Development was set, as well. WhenArrested Development was airing at 9:30 on Sunday nights during its first season, the evening news would immediately follow the show, so it would be pretty common to see John Beard do a scene on Arrested Development and then see him anchor the nightly news right after.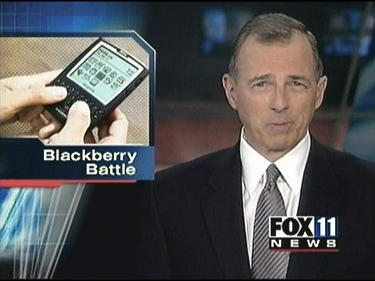 #26.Here's Tony Hale playing a soldier in a 1940s British war movie, as seen in the episode "Notapusy":
Bronwen Masters, who plays the nurse in the scene, resurfaces on Arrested Development several episodes later in "Exit Strategy," where she plays Buster's nurse and they recreate the same conversation, almost verbatim, that these two movie characters have in the war film.
#27. Lindsay Bluth was the only character Mitch Hurwitz rewrote for an actor after being taken by how funny their audition was.
#28. Ricky Gervais, Sacha Baron Cohen, and Christopher Walken all wanted to be on the show, but it was canceled before Hurwitz could find somewhere to use them.
#29. Because of his thick New York accent, Scott Baio overpronounced the "aw" in Bob Loblaw and had no idea the name was a joke at first.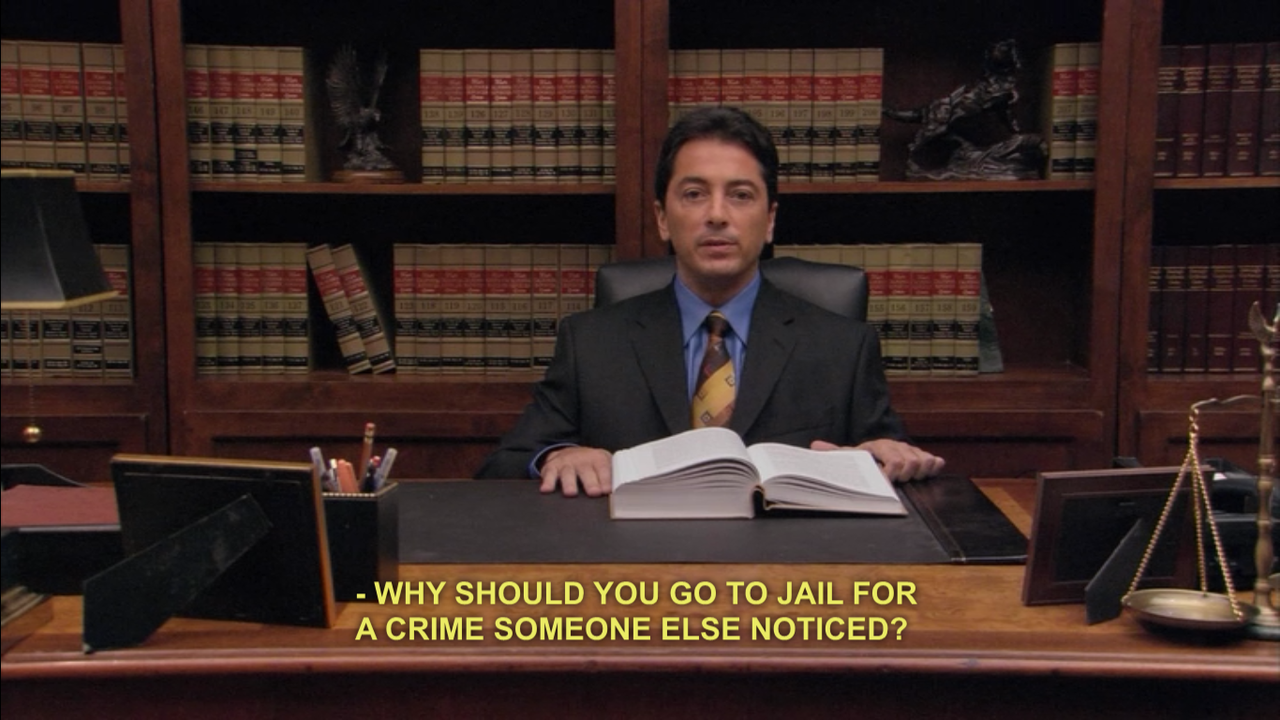 (Source ScottBaioTumblr.com)
#30. Mitch Hurwitz's script for the pilot was 70 pages long, which is double the standard length.
As a bonus, Jack Black had a little non-speaking role in the episode "For British Eyes Only".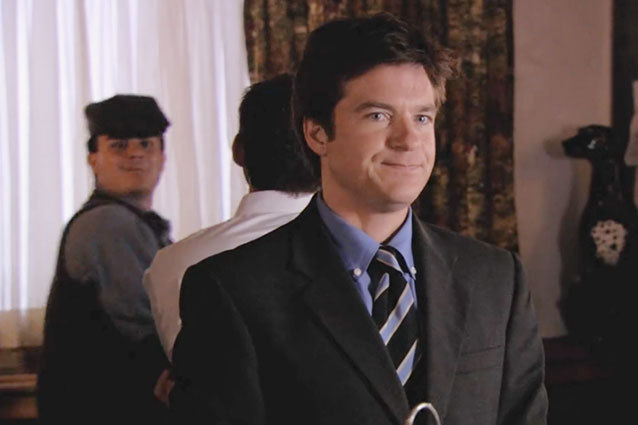 (Source Hollywood.com)
What's your favourite fun fact? You have any recurring jokes that you liked? Have you guys watched the newest season yet?
Let us know below!
5/26/2013 – 2:33 pm
by James