(Source TheMovieSnitch.com)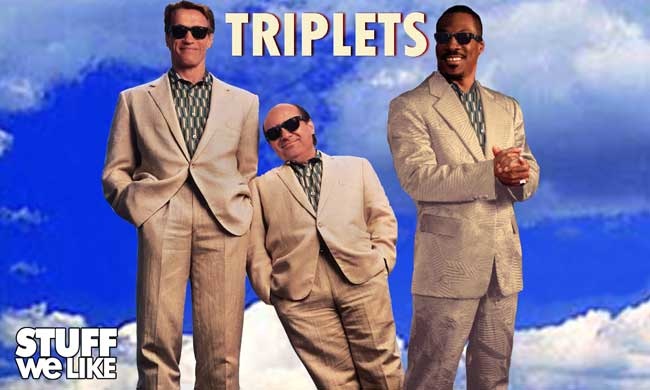 SO. About 16 months ago, there was word that a sequel to the 1988 hit "Twins" could actually happen, and about 4 months ago, I got around to explaining why it could work, and why it might not… So I'm excited to say that in a recent interview (about a week ago), Arnold Schwarzenegger confirmed that he will be receiving the script for "Triplets" in a week.
An interview with MovieWeb.com (read full article here) poster on July 13th, 2013.
"Well, I don't think there is one character (I can chose from) even with all my other movies…Like for instance, I'm getting the script in two weeks from now about the sequel to Twins, which will be called Triplets. So for me, that character was a fantastic character…"
So far, IMDB has revealed that Ivan Reitman will be directing, Josh Gad, and Ryan Dixon has written the screenplay, and that Arnold Schwarzenegger, Danny DeVito and Eddie Murphy are set to star in the movie, and so far have said they are interested in the sequel.
No word on when production will officially start, but if "Arnie" is getting a script, I could assume we see "Triplets" hit the big screen in the next 3 years (hopefully no later than that though).
What do you think of this? How amazing could this sequel be? I think it would be one of the best 80's sequels to be made, how about you guys?
Let us know below!
6/21/2013 – 12:32 am
by James