JURASSIC WORLD 2 will see Jeff Goldblum return to the Jurassic franchise in 2018 as Dr. Ian Malcolm, joining Chris Pratt & Bryce Dallas Howard who starred in Jurassic World (2015) – the franchise reboot. Jeff Goldblum famously portrayed the character in the original Jurassic Park (1994) & it's sequel Jurassic Park: The Lost World (1997). The question is – just how will his character be involved 20 years later?
"Off I go in a few weeks to London, where they've been hard at work, and I'll try to contribute something to the plate of dino-entertainment," Goldblum tells the outlet of his return as Ian Malcolm. "I like my character. I think my character is a saucy, sassy man of some integrity and deep thinking. And of course, that whole world continues to be popular, slam-bang, top entertainment." (Source ComingSoon)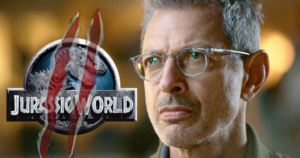 For fans, it's exciting that Goldblum's character is making a comeback as he was one of two major characters from the original trilogy – the other being Dr. Alan Grant (Sam Neill). Interestingly enough, both actors did return to do sequels, albeit different ones: Sam Neill appeared in the first & third instalments. Although, Jurassic Park III (2001) was unfortunately where the franchise hit a brick wall. Making the studios debate making a direct sequel or an entire franchise reboot. The debate went on for nearly hey ultimately did with Jurassic World (2015) nearly a decade & a half later… although they definitely made the right decision as Jurassic World managed to dominate the 2015 box office banking $1.67 billion becoming the number 4 highest grossing movie of all time (source: Box Office Mojo)

At this point details are scarce onGoldblum's involvement although they've made the announcement while the sequel has only been filming for a couple weeks, meaning this will not be a minor cameo – Jeff Goldblum's Dr. Ian Malcolm will have a serious & important role in ensuring the dinosaurs don't wreak havoc & destroy humanity & the planet… again… for the 5th time. Some people just never learn.
The future of the Jurassic Park / World franchise:

Franchising films has become Hollywood's focus as of late & the assumption is that Jurassic World was the beginning of a new trilogy with Chris Pratt as the titular character. The trilogy will show that not only are humans destined to make the same mistakes, but to take those mistakes into futuristic scenarios – the ending of Jurassic World showed us that there are characters that intend to weaponize dinosaurs for military purposes.
"Even though some might say it's popcorn-y entertainment (top-notch, of course), in our conversation he was very focused on the serious issues of greed as it oftentimes comes up in those movies and the marvels of science and reason and the very fascinating point at which our species finds itself both in real life and in this imaginary world too. I'm very interested in that myself, so I'm looking forward to this." (Source ComingSoon)
How Dr. Ian Malcolm (Jeff Goldblum) will fit into Jurassic World 2:
Jeff Goldblum's involvement in the franchise at this point is an interesting move – on the one hand he is a fan favourite from the original trilogy, although on the other, his character's role seems unnecessary in the current storyline. The ending of Jurassic World proposes a future with weapon-wielding dinosaurs & the potential militarization of said dinos. SO… how would Jeff Goldblum's character even be of help in this scenario? My assumption is that the studio decided to connect the original trilogy to the current one & we could see Dr. Alan Grant (Sam Neill) make an appearance in Jurassic World III. As for what we do know though, Jurassic World 2 will show us an entirely new side of the dinosaur franchise that hopefully we've never seen before.
Jurassic World 2 is set for a June 22, 2018 release – just over a year away!
How do you think Jeff Goldblum's character will be relevant in the Jurassic franchise? Could we potentially see the same level of disappointment as Independence Day 2, that also brought Goldblum back for the sequel decades later? Does the notion of an underwater Jurassic World 2 peak your interest?
Comment below and let us know!
6/14/2017 – 7:45 pm
James Clarke