Netflix & Ricky Gervais' Special Correspondents (starring Gervais & Eric Bana) is a comedy that tries too hard to make a joke out of fighting for your life in the jungle, up until the point that they actually have to:
A radio journalist and his technician get in over their heads when they hatch a scheme to fake their own kidnapping during a rebel uprising in South America and hide out in New York instead.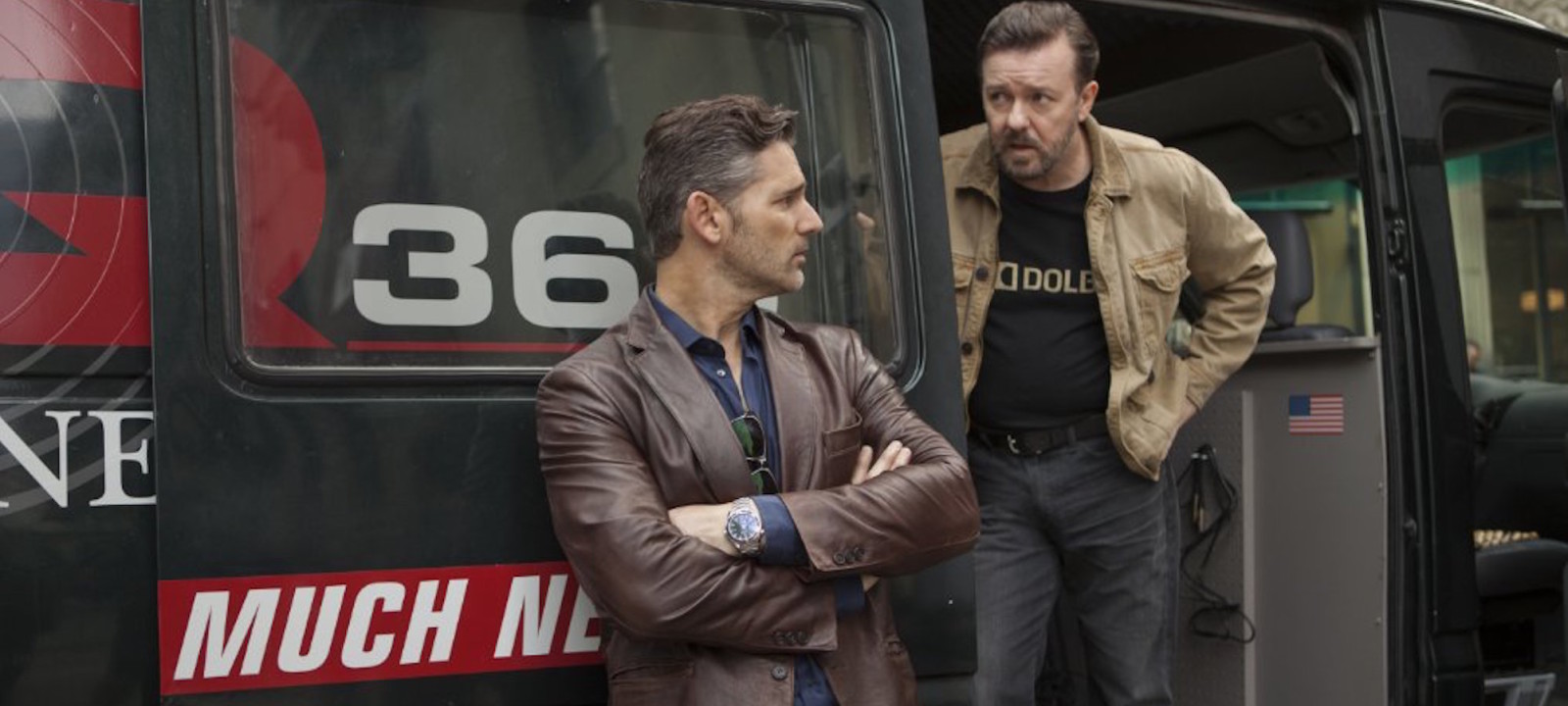 Netflix's Special Correspondents: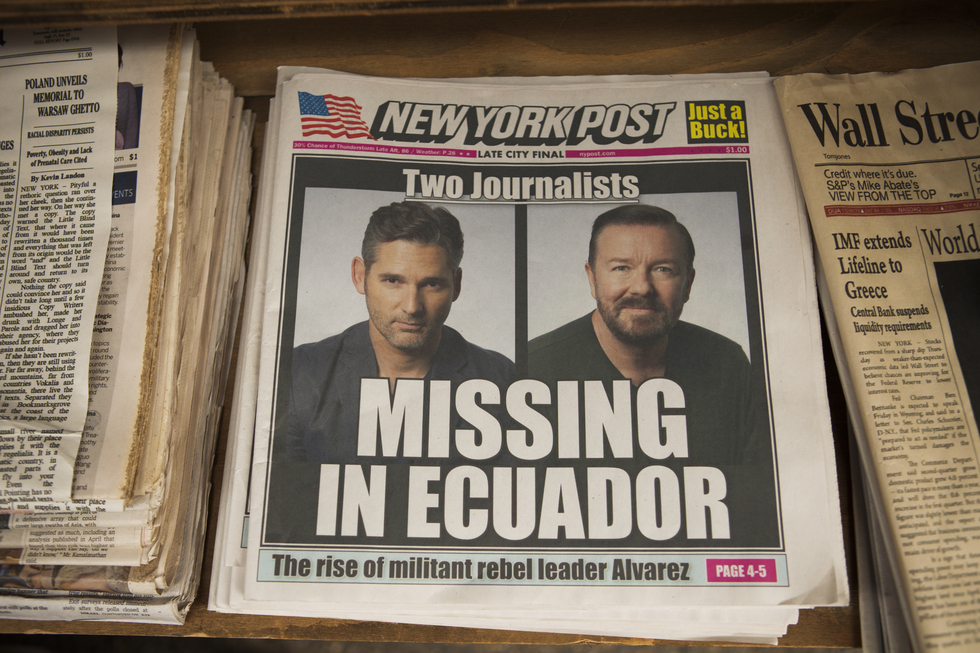 Ian Finch (Ricky Gervais) is a shy & clumsy audio technician for radio journalist & local celebrity Frank Bonneville (Eric Bana). On their way to Ecuador to cover a major war story, they accidentally lose their passports & tickets. But without the time or reputation to spare, they set up a radio recording room across the street from their work, to pretend they're actually in Ecuador, creating stories to cover their story. They're seemingly getting away with it, until they create a fictional rebel leader in charge of the war & are ordered to go to the U.S. Embassy – in Ecuador, for their own safety. Things only get more complicated when they don't respond for days, leading to the assumption they've been kidnapped, so they go with it to buy time. All while Ian's wife, who recently left him, is using the publicity of his disappearance to become a public icon & make money… Without passports or tickets to get there, Ian & Frank have to sneak into Ecuador just to pretend that they've been released from the fake rebel group, until they actually do get kidnapped & have to escape.

With a plot so ridiculous, combined with the oddly perfectly balanced duo of Gervais & Bana, the film fell short of what fans have become accustom to with Gervais' humour. The funniest moments involved Brigida (America Ferrera) and Domingo (Raúl Castillo), a couple that hides the journalists in their restaurants attic, while they are pretending to be in Ecuador.
With some good laughs here & there, the movie takes a turn for the adventurous as Frank & Ian have to literally escape an Ecuadorian kidnapping situation and drugs are involved in helping them break free.
All in all, I'd give this movie a 5/10 for bringing a good cast together on a unique plot that plays off it's own humour & mistakes. Although, the main problem simply is – in a world where 6/7 billion people have a cell phone, who actually would choose radio over video? Sending these two guys into a war torn country without a video camera seems like a plot point that was just overlooked.
If this movie had been mad in 1990, it would have been a hit.
Comment below and let us know what you thought of Netflix's Special Correspondents!
5/2/2016 – 4:10 pm
by James