NetFlix's Original 'Unbreakable Kimmy Schmidt', produced by Tina Fey (30 Rock) follows Ellie Kemper (The Office)  as the one "Indiana Mole Woman" that decided she wanted to live life to the fullest in New York once she finds out the world is still alive. With Fey writing & producing, Kemper starring and (30 Rock cast member's) Jane Krakowski & (part time co-star) Tituss Burgess co-starring, it's bound to be the NetFlix's next enjoyable hit.
Of the four women stuck underground for years (hence the name Mole Woman), Kimmy Schmidt (Kemper) is the only one that decides she wants to stay. She wants to live her life differently, and get a fresh start in New York City, and then she meets the indescribably interesting Titus (Tituss Burgess) and becomes his roommate after becoming Jacqueline Voorhees (Jane Krakowski)'s nanny.
The story starts off as one dark sitcom about survival in New York from a complete opposite underground bunker, and you can't help but want to see the joyous Kimmy succeed.
The Tina Fey-produced sitcom was released on NetFlix earlier this week, and it's an enjoyable ride of weird and positivity, but mostly, it gives a fresh (yet exaggerated) perspective on starting new in New York. The show presents the unique dreamer Titus that moved to New York to be in the Lion King, but never made his dreams happen. In Kimmy's case, she didn't come from a small town with big dreams in New York, she comes from an underground cult bunker, and everything is her next favorite thing to try and succeed in. The unbreakable Kimmy Schmidt gets to finds excitement in the basic aspects of New York life, as if everything is new and amazing, shoe shopping, like "…running, outside!", public washrooms, automated faucets/air driers, the subway train, going all the way around on the swings, eating candy for dinner, freeing a horse, and making a black friend. While out experiencing, everything, for the first time, she sees a junior private school boy pick pocketing a chocolate bar, and in her desire to be good, and get a job (which she finds out in the next scene – nice set up), she ends up being the boys nanny.
The scene plays out well with the wonderfully phrased:
Kimmy: "Hey. I saw you steal this. Where is your grown up? Are you alone or are you some sort of business man, sir?" followed by the boy saying "Stranger Danger!" and her responding with "I'm not stranger danger. I'm a stranger danger ranger."
In an interview with Matt Lauer after they are rescued, Kimmy talks of the imprisonment and why they stayed underground for so long:
Best quote of the pilot episode:
"Reverened Richard Wayne told us that there had been a nuclear apocalypse and that the Earth was scorched and there was likes of fire and …stuff."
The opening theme perfectly mocks the Antoine Dodson viral video and plays on the news report that showcased the "Indiana Mole Women" being rescued with the caption: White Women Found. And that's not even where the Tina Fey-style humour ends!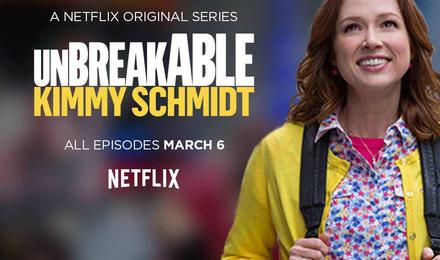 The first full season of The Unbreakable Kimmy Schmidt is on NetFlix and available for streaming and it just got a second season order! You might want to give it a chance – you might enjoy the quirkiness that comes when Tina Fey writes it and Ellie Kemper (Kimmy Schmidt), Jane Krakowski (Jacqueline Voorhees), and Tituss Burgess (Titus Andromedon) star in it as three completely opposite and uniquely enjoyable characters.
Thanks for reading this article, if you have anything to add or say about the show, post a comment below and let us know!
3/9/2015 – 7:15 pm
by James