(Source IMPawards.com)
The first bit of Amazing Spider-Man news is that director Marc Webb will return to direct Amazing Spider-Man 3. After directing both the franchise reboot Amazing Spider-Man and the follow-up Amazing Spider-Man 2 (that is set to hit theatres May 2nd of this year), he is probably the right choice for continuing the series…
At the same time, Sony Pictures wants to hold onto it's Spider-Man rights for a long while, and is planning to start building it's own mini-universe much like the one Marvel has created with it's other franchises – the most noteworthy being The Avengers franchise: Iron Man 1 & 2, Thor, & Captain America: The First Avenger that lead to one of the highest grossing films of all time: The Avengers; Sony plans to do much the same thing with their rightfully owned characters.
In order for Sony to keep the rights to Spider-Man and the character's that come with it (Spider-Man's villains, friends, lovers – basically anyone that appeared regularly in Spider-Man comics), they have to have plans to make movies with the characters: they're going to make a bunch of Spider-Man movies. Well, technically, they're going to make a bunch of Amazing Spider-Man movies.
(Images found on MovieNewz.com)




We're talking sequels and spin-offs people.
Amazing Spider-Man 3 is set for June 20th, 2016 and Amazing Spider-Man 4 is set for May 4th, 2018.
Sidenote: These release dates have been up on IMDB.com since news broke that Amazing Spider-Man 2 was happening.
Sony is planning something serious. With Amazing Spider-Man 2 perhaps starting to assemble the Sinister Six (with Rhino, Electro & Green Goblin), we could be seeing more of them coming to the big screen with two spin-offs that Sony has announced: Venom and The Sinister Six.
This is big news for (what I'm going to call) "Sony's Marvel Universe" (meaning the Universe in which all of their characters live, which just happens to be a different universe than those that The Avengers live in, because they'll probably never meet. This is not only their chance to properly remake Spider-Man, but include new characters, new plotlines, and to fix what went wrong in the Spider-Man trilogy with Tobey Maguire (which I don't even have to explain, because you already know).
Now, here's the thing, Sony is making a power move. They're holding onto the rights for as long as they can, and if they don't start production on a Spider-Man movie, and 5 years passes with no production activity, the character rights revert back to Marvel.


(Source Collider.com)
Which is why Spider-Man 3 came out in 2007, and the reboot (Amazing Spider-Man) came out 5 years later in 2012 – just long enough that it felt right for a reboot, and not too long that they lost the character rights. It's kind of brilliant.
Sidenote: Things like this have happened before but in more ridiculous circumstances, you ever heard of The Fantastic Four? Well, back in 1994, there was a Fantastic Four movie made, but never intended for release because the studio wanted to hold onto the character rights, and as long as they started production by a certain date, they could maintain them.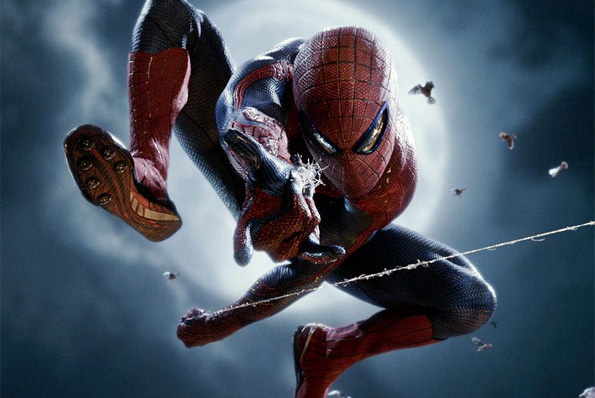 (Source ComicBookMovie.com)
Now, Spider-Man going back to Marvel that wouldn't be such a bad thing, seeing as then Spidey could team-up with The Avengers – which would be awesome – but we're talking 5 years of inactivity. And seeing as Amazing Spider-Man 2 promises to be probably the greatest Spider-Man movie yet (and from the trailer, it's hard to disagree – it has potential), Sony is already planning 2 more ASM movies, the second of which will come out by 2018, and who knows where the other Marvel movies will be by then. Robert Downey Jr. is currently the most popular actor in the Marvel Cinematic Universe with two of the films he headlined in getting in the top 10 highest grossing movies of all time (The Avengers & Iron Man 3), but let's be real, do we want to wait that long until we see a team-up between these two iconic comic book heroes?
Well, Collider.com reports that Sony is going to try and put out a new Amazing Spider-Man movie every year after Marc Webb's ASM trilogy is complete, meaning from 2016 on. But, don't be mislead, this includes the two previously mentioned Spinoff movies (Venom and The Sinister Six).
Here's what the future of Amazing Spider-Man movies will look like:
Amazing Spider-Man 2 – May 2nd, 2014
Amazing Spider-Man 3 – June 20th, 2016
Either Venom or The Sinister Six – 2017
Amazing Spider-Man 4 – May 8th, 2018
Either Venom or The Sinister Six – 2019.
Do we want to see a Spider-Man (related) movie every year? Or will audiences get bored? Sony currently owns the rights to just Spider-Man's universe and surrounding characters. It's ok for Marvel to crank out two movies in the same year like Iron Man 3 and Thor: The Dark World, because (at times) they are literally worlds apart, so they (although technically fall under the Avengers franchise) can remain their standalone story lines in their standalone movies. Whereas with Amazing Spider-Man, you have one superhero, one town, and loads of villains, but is that enough to satisfy audiences on a yearly basis?
Sidenote: According to Collider.com, Alex Kurtzman will direct Venom, while Drew Goddard is writing and directing The Sinister Six.
Something interesting is whether or not the actors will return for the sequels. When signing onto big franchises like this, actors sign a contract that includes options for two sequels meaning the first three ASM movies will have the same cast, but anything beyond that is anyone's guess. Perhaps he'll have a change of heart, but Andrew Garfield has already hinted that he might want to move on after he is contractually finished with Spider-Man.
What do you think about the ASM franchise so far? Seeing as only one ASM has been released, is it too early to plan for 3 sequels and a spinoff? Any thoughts on seeing a new Amazing Spider-Man movie every year?
Let us know below!
2/272014 – 1:47 am
by James