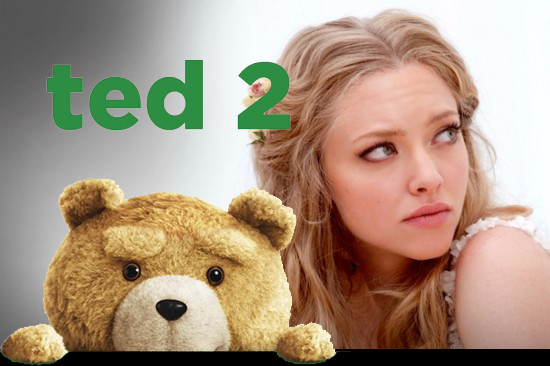 (Source SlashFilm.com & Collider.com)
John (Mark Wahlberg) and Ted (voiced by Seth MacFarlane) will be joined by a new leading lady for the follow up to the surprise hit about a man and his talking teddy bear who grew up to be best friends. Seth MacFarlane has just added Amanda Seyfried to the cast of Ted 2. Seyfried is set to be a love interest for the upcoming sequel.
At the moment, t looks like Mila Kunia is out, Amanda Seyfried is in.
Everyone together now – "Shut up Meg!"
Seeing as John (Mark Wahlberg) got married to Mila Kunis' character Lori at the end of the last movie, there could already be trouble with the sequel.

So, the question becomes why Kunis is getting replaced? MacFarlane has confirmed that their is no feud with Kunis, and that the decision to reduce her role in the (2 movies so far, but could turn into a) Ted franchise was purely creative and not personal. MacFarlane says  Kunis will still have a role, but it will be a reduced one, that will make for a quick exit to make room for Seyfried's character.
There are no plot details yet, but this casting makes little sense as of yet, seeing as at the end of Ted, Lori (Mila Kunis) John (Mark Wahlberg), and Ted (voiced by Seth MacFarlane) seemed to be in a good place together, so it could be that Amanda Seyfried will be the love interest of Ted, just a wild assumption. But at the moment, that doesn't quite seem to be the case – all reports say that Seyfried will be the leading lady, and will most likely be Wahlberg's new love interest.
Seth MacFarlane and Amanda Seyfried recently worked together on A Million Ways To Die In The West (coming out May 30th, 2014), so I'm guessing Seyfried impressed MacFarlane so much that he wanted to work with her (again) on the Ted sequel.
Ted 2 comes out in theatres on June 26th, 2015.
Any thoughts on the casting? What about the thoughts of a Ted sequel or even a franchise? What did you think of the first Ted?
Let us know below!
2/25/2014 – 10:12 pm
by James