(Source Mirror.co.uk)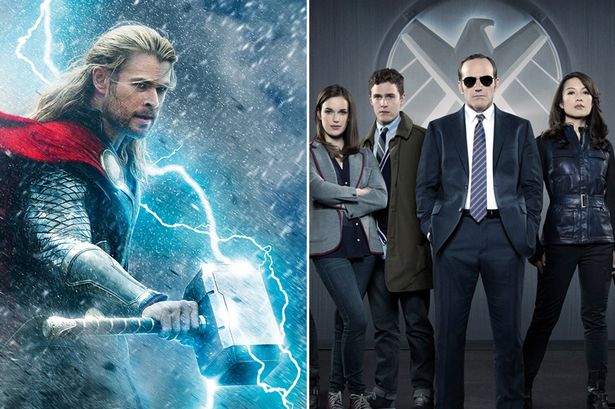 There probably won't be a "guest starring Chris Hemsworth or Tom Hiddleston" or anything like that, but it will just continue the story from the end of Thor: The Dark World.
"Thor: The Dark World" is out this weekend.
Here's the official synopsis of the episode, out in November 19th, 2013.
"The Well" – In the aftermath of the events chronicled in the feature film Marvel's "Thor: The Dark World," Coulson and the Agents of S.H.I.E.L.D. pick up the pieces–one of which threatens to destroy a member of the team, on Tuesday, November 19 (8:00-9:01 p.m., ET) on the ABC Television Network.
"Marvel's Agents of S.H.I.E.L.D." stars Clark Gregg as Agent Phil Coulson, Ming-Na Wen as Agent Melinda May, Brett Dalton as Agent Grant Ward, Chloe Bennet as Skye, Iain De Caestecker as Agent Leo Fitz and Elizabeth Henstridge as Agent Jemma Simmons.
Guest starring Peter MacNicol as Professor Elliot Randolph, Michael Graziadei as Jakob Nystrom, Erin Way as Petra Larsen, Toby Wilson as Neils, Alex Neustaedter as Maynard and Sylvia Brindis as Elena.
"The Well" was written by Monica Owusu-Breen and directed by Jonathan Frakes.
What do you think of the crossover? What about the plot? What do you want to happen?
Let us know below!
1/4/2013 – 5:30 pm
By James