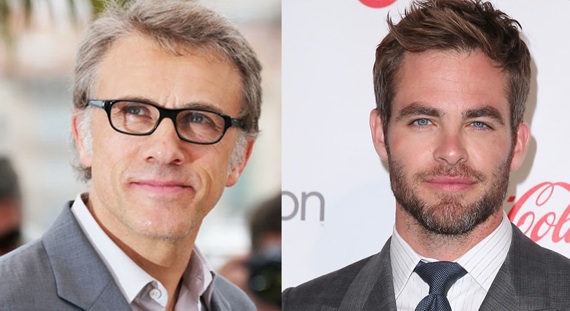 (Image Source ScreenCrave.com)
According to Dealine.com, the producers behind "Horribles Bosses 2" want Chris Pine (Star Trek Into Darkness) & Christoph Waltz (Django Unchained) to play a new set of bosses, and more interestingly, father and son.
There is no word on who (of Jason Sudeikis, Jason Bateman, and Charlie Day) will have the "horrible boss" combo of Waltz & Pine.
Also, there's no confirmation from Christoph Waltz but Deadline's source says he probably won't be available. According to Dealinde.com, Chris Pine is reportedly considering the role.
In addition to this (possible) casting news, ScreenRant.com reports that Jason Sudeikis, Charlie Day and Jason Bateman will return for the sequel, and so will writers John Francis Daley and Jonathon Goldstein. The one bit of unfortunate news could be that director of (the universally disliked Adam Sandler flick) "That's My Boy" Sean Anders will take up the director seat instead of Seth Gordon, who directed the first "Horrible Bosses".
The director doesn't bother me, I just hope that we get some returning cast like Jaime Foxx, Colin Farrell, Jennifer Anniston and Kevin Spacey in some way.
Horrible Bosses 2 is set for a November 26th, 2014 release.
What do you think about Chris Pine & Christoph Waltz possibly being father & son in the upcoming "Horrible Bosses 2"? What do you think about adding Sean Anders as the director? And lastly, what do you think of the name: Horrible Bosses 2? I would have gone with (the awfully pun-filled) "Horribles Bosses Too"… With the terrible tagline of "These new guys are Horrible Bosses Too".
Let us know your thoughts below!
10/11/2013 – 11:49 am
by James