Let me repeat that:
2013 is going to be filled with Danny Trejo movies, the problem is that almost everything he'll be in will be B-List movies, and you probably won't even see 90% of them… That's why I'm writing this post, because Trejo is a great actor, and he's pretty under-rated even though he's also pretty famous. Whenever there has to be a bad*ss Mexican, he's there; from shows like Breaking Bad to franchises like Death Race, he jumps into the middle of them and makes them so much better. So that's why I wanted to highlight his career for the (last couple) year(s), because it's pretty impressive. Trejo has more movies coming out this year than some people do in their entire career (I'm pointing at you Will Smith).
But let's get on with it, this year Danny Trejo is going to be in a lot of movies, I mean a lot, even more than Nicholas Cage will be… and that's saying something. You know every couple of months you see a new movie with Nic Cage's face on the poster? Yea, well that's gonna be Trejo but with every DVD you see at your local shop, or on Netflix, mainly because Trejo's movies most of the time go straight to DVD… Unfortunately.
We all know that Nicholas Cage has basically been in everything he could possibly get his hands on for the last couple years because he owed a ton of back taxes, millions, more than that. He has basically been making mediocre movies to pay off his debt… Which is a shame, not that I'm saying Nic Cage is some sort of brilliant actor, he's not really bad at all (Con-Air and Lord of War are in my Top 20), but because he has been just acting to get money to give it back to the government, it feels like his last couple movies have been below par, and not up to the old Nicolas Cage standard.
Let's start at 2011, because the last good movie Nicolas Cage was in, was Kick-Ass (in 2010).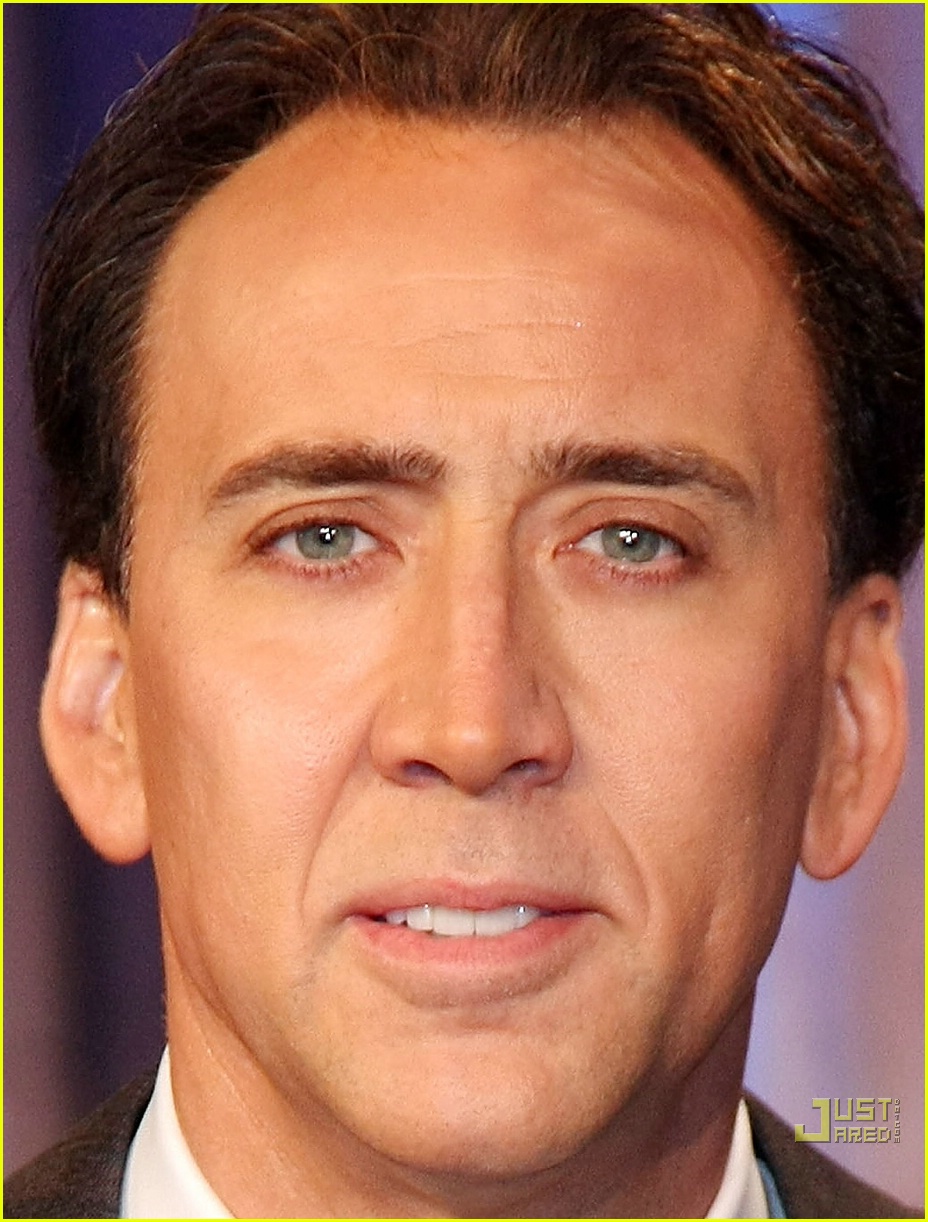 From 2011 to the end of 2013 Nicolas Cage will have been in 11 movies
2011
1) Season of the Witch
2) Drive Angry
3) Seeking Justice
4) Trespass
5) Ghost Rider: Spirit of Vengeance
2012
6) Stolen
2013
7) The Croods
8) The Frozen Ground
9) Joe
10) Wild Side
11) Outcast
From 2011 to 2013 Danny Trejo will have been in 51 movies

2011
1) In The Shadow
2) Young Justice (1 episode)
3) Recoil
4) Blacktino
5) Bones (1 episode)
6) Cross
7) House of the Rising Sun
8) Poolboy: Drowning Out the Fury
9) Franklin & Bash (1 episode)
10) Spy Kids: All the Time in the World 4D
11) Violet & Day
12) St. James St. James Presents: Delirium Cinema
13) Dark Games
14) The Muppets
15) A Very Harold & Kumar 3D Christmas
16) Breaking Wind
2012
17) Alcatraz Prison Escape: Deathbed Confession
18) Amelia's 25th
19) Strike One
20) The Cloth
21) The High Fructose Adventures of Annoying Orange (2 episodes)
22) TripTank (1 episode)
23) Open Your Eyes
24) Bad Ass
25) Sushi Girl
26) Haunted High
27) Rise of the Zombies
28) Death Race: Inferno
29) Sons of Anarchy (15 episodes)
30) Bro'
2013
31) Counterpunch
32) Bilet na Vegas
33) Bang.com
34) The Contractor
35) Pendejo
36) Force of Execution
37) Dr. Fubalous (4 episodes)
38) Five Thirteen
39) In the Blood
40) Mucho Dinero
41) Zombie Hunter
42) Bullet
43) Maron (1 episode)
44) The Sleeper
45) Dead in Tombstone
46) Machete Kills
47) Vengeance
48) Raggedy Anne
49) Tarantula
50) The Prey
51) 179th Street
Just to recap:
This is how many movies Nicolas Cage has that come out between 2011 and 2013: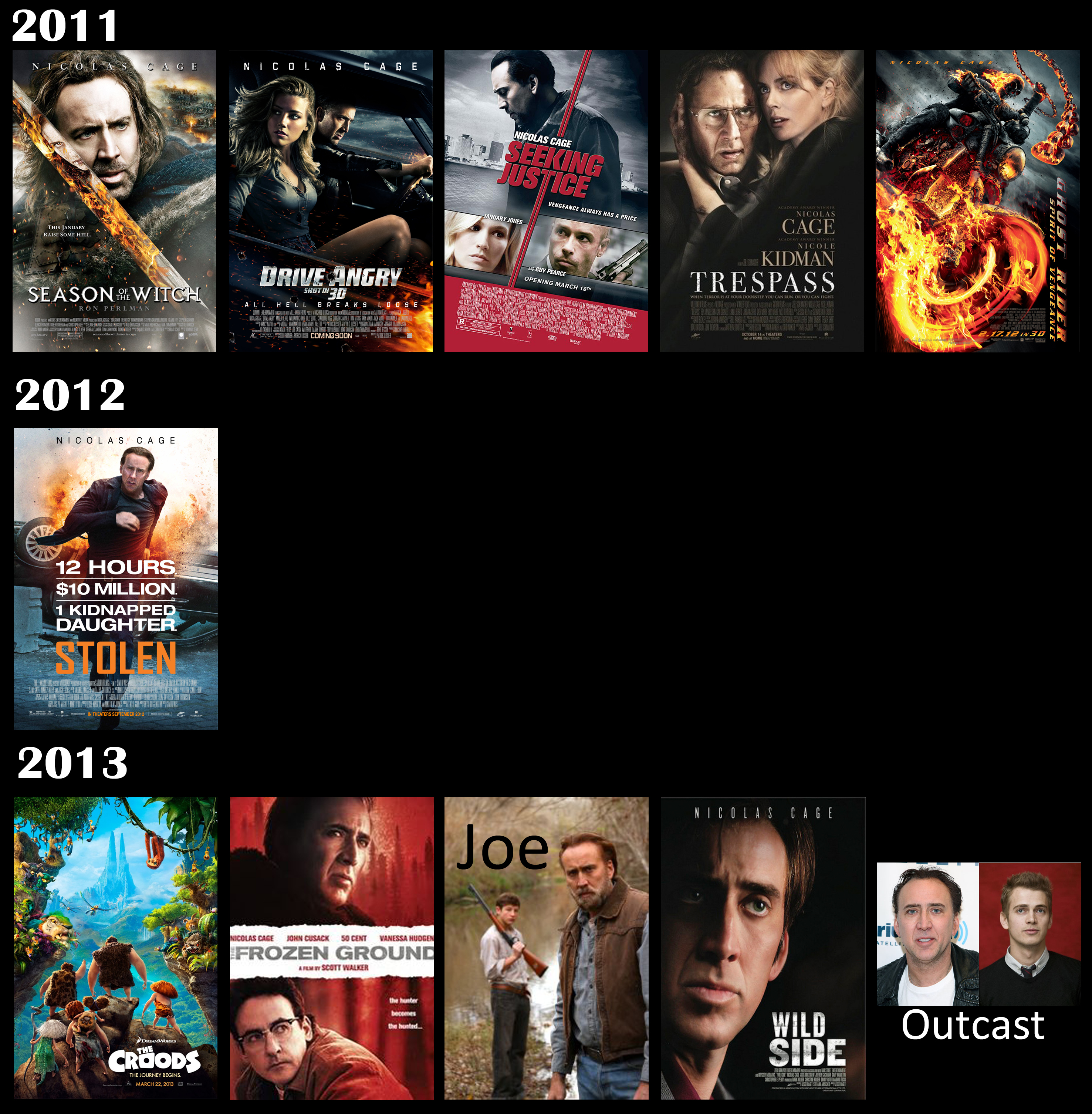 And this is how many Danny Trejo has:

Incredible. What are your thoughts guys? Who's the better action star/bad*ss? Which of these two deserves more fame?
Let us know below!
4/13/2013 – 5:27 am
by James