Kick-Ass 2 is becoming awfully similar to another superhero series… but I'll explain that later on, first:
The poster, the trailer (and analysis) and then the movie comparison. 
OK, so a trailer for "Kick-Ass 2" came out just about 3 hours ago, but YouTube won't let me watch it because I live in Canada and I keep getting the message: "This video is unavailable in your country." That's a damn shame.
Well, looks like his post is going to be short, BUT WAIT, what am I saying? Not only is the internet a place for funny pictures and cat videos, but it's also a place for people to connect and share… and that's exactly what happened. In the amount of time it took me to search "kick-ass 2 trailer" in YouTube, not find one I could watch, and write the opening to this post, someone had uploaded it so people in Canada could watch it too! Thank you fellow internet users. It seems that once something is on the internet, it's almost impossible to stop it from being spread around. That's incredible.
Here is the 1st poster: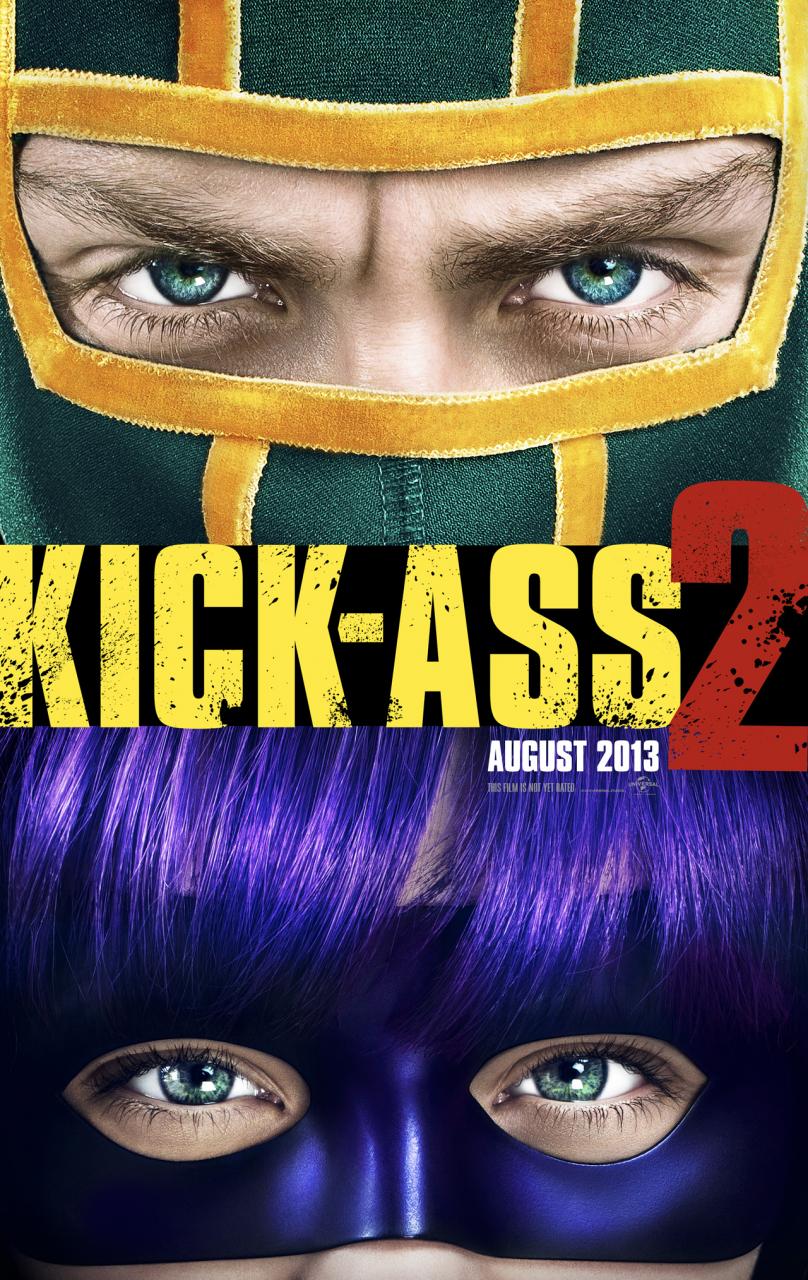 (Source IMPawards.com)
AND here is a link to the trailer but it just might get pulled down for copyright infringement. – Which doesn't make a lot of sense to me, why would you want to control who can and can't see your trailer, wouldn't you want everyone to see it?
Analysis of the trailer:
NOTE: watch the trailer before reading further.
We start with seeing Chloë Grace Moretz (Hit-Girl) walking into a similar looking training room as in "Kick-Ass" with an assortment of guns and other weapons on the wall.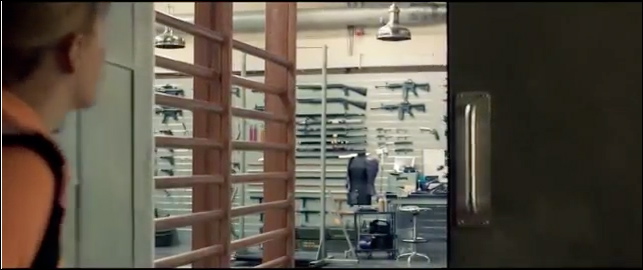 (Source – direct screenshot from the trailer)
Then comes Aaron Taylor-Johnson (who plays Kick-Ass): "What do you want me to do?" "Hit me" "You're a 15 year old girl…" and a classic Hit-Girl comeback (after she hits him in the face): "Act like a b*tch, get slapped like a b*tch."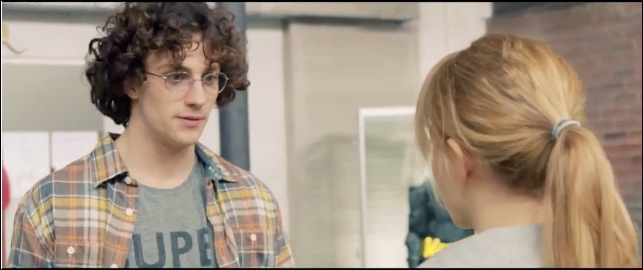 (Source – direct screenshot from the trailer)
I don't think we'll every really get used to Chloë Grace Moretz saying those kinds of lines… but I guess that's what makes the movie so edgy, you know? Having a little girl who's manlier than a grown man, who claims to be a superhero… They're a bit of an odd pair, but it works, which is just great.
The trailer opens with Hit-Girl (Moretz) proving that she can still kick Kick-Ass's ass (sounded hilarious when I thought of it) even though, like he said, she's "a 15 year old girl."
(Source – direct screenshot from the trailer)
"Me and Hit-Girl, were training every day, and there were more and more people joining us every night." Including Jim Carrey apparently.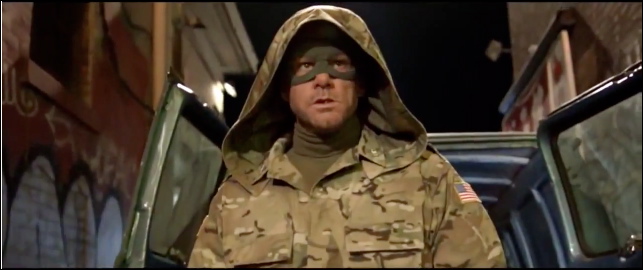 (Source – direct screenshot from the trailer)
I like that Jim's back in the "movie biz", and the best part is that he's getting away from his type-casted role. ScreenJunkies had a great article on typed casted actors, and Jim Carrey's name came up:
"Jim Carrey is the original bat-sh*t crazy comedian. Every single one of his movies find him moving his expression in some odd, crazy fashion, twisting his body every which way, throwing absolutely everything he has into his performances. It usually creates great comedy, but by now his shtick is wearing thin."
Read the full article here.
"Colonel Stars and Stripes, reporting for duty"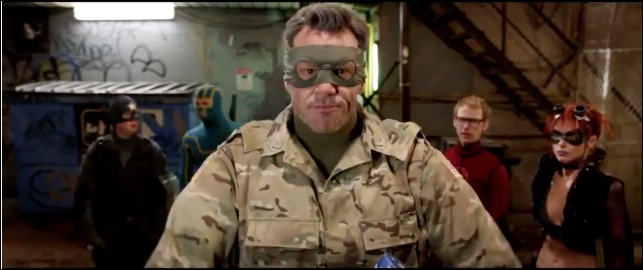 (Source – direct screenshot from the trailer)
Never has one of Jim Carrey's lines sounded so badass… you'll know after watching the trailer.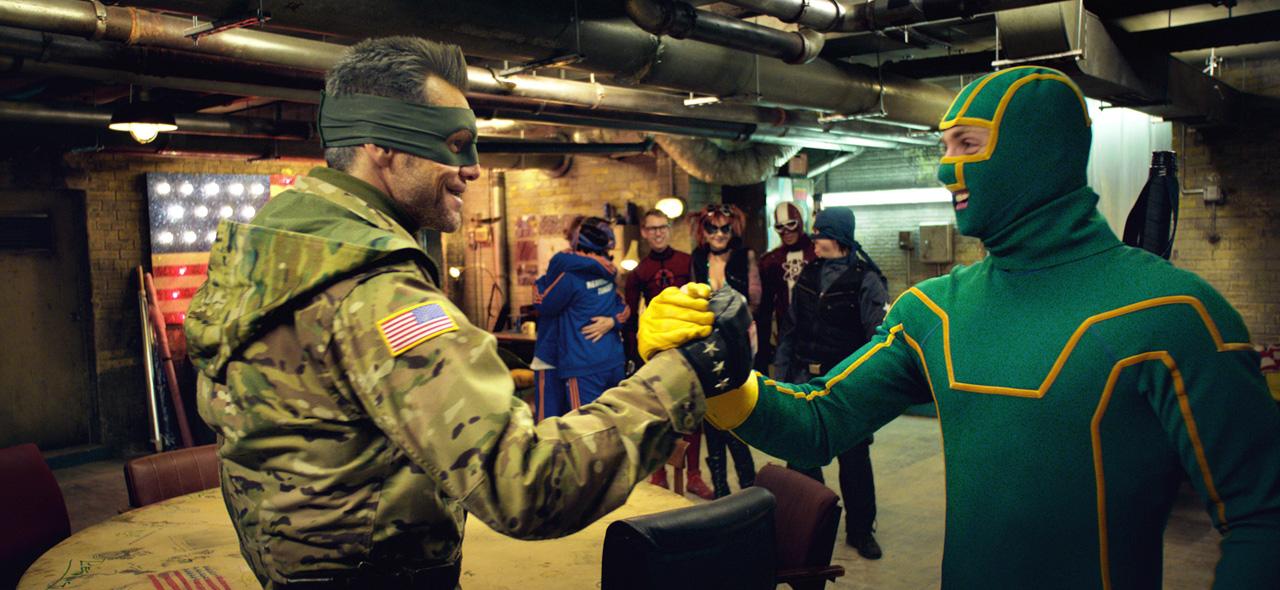 (Source – direct screenshot from the trailer)
From the trailer, it appears that Kick-Ass and Col. Stars and Stripes are going to team up against Chris D'Amico (Christopher Mintz-Plasse)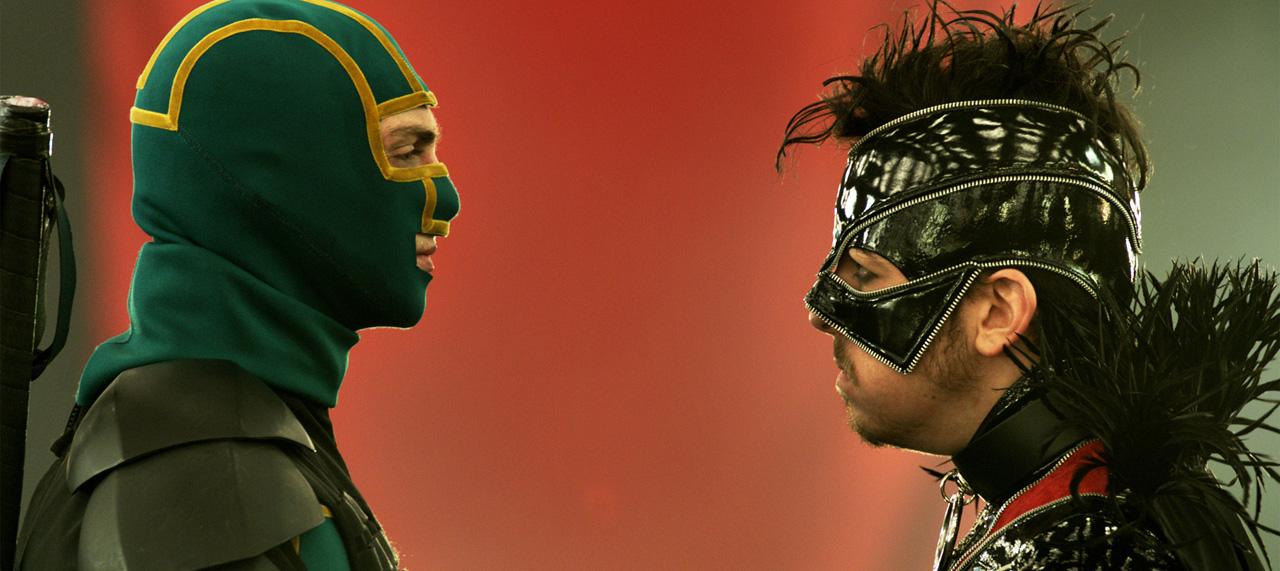 (Source – direct screenshot from the trailer)
who now calls himself The Mother F*cker. Interesting bad-guy name, and costume, probably went a bit too far with the shiny black straps and chains…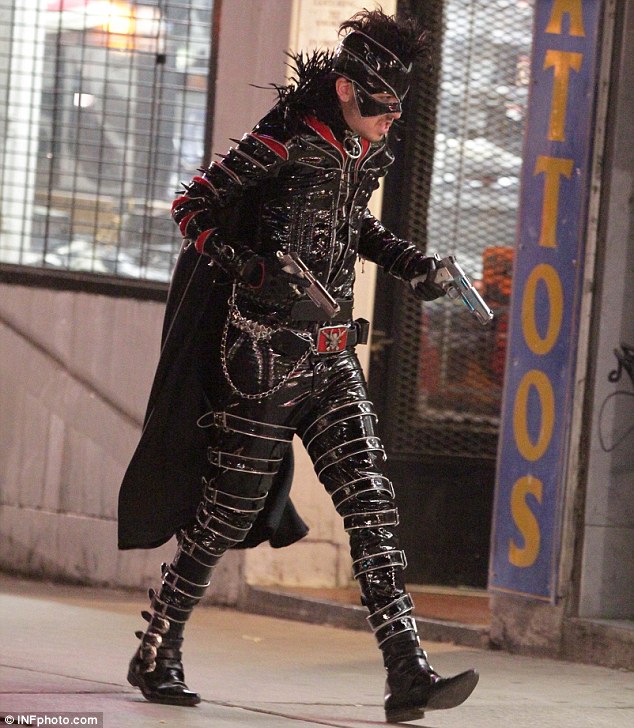 (Source INFphoto.com)
Christopher Mintz-Plasse returns as his character Chris D'Amico who, in the last Kick-Ass movie, pretended to be a superhero to gain the trust of Kick-Ass, so his father could kill him. D'Amico called himself the Red Mist, but failed to trick Kick-Ass, leading to the death of his father via a rocket… and now it looks like he's back for revenge.
(Source Wired.com)
Back to the trailer:
Col. Stars and Stripes narrates while he and Hit-Girl kick butt in different scenes:
"Try to have fun, otherwise, what's the point?"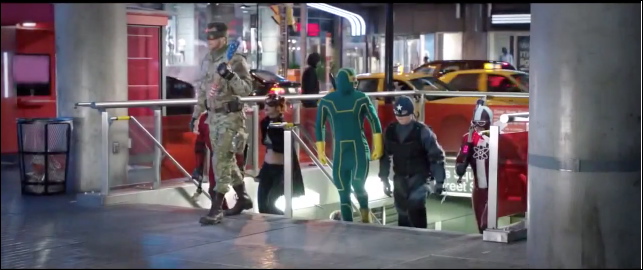 (Source – direct screenshot from the trailer)
Now we get our first look at the other members of Justice Forever.

(Source – direct screenshot from the trailer)
So we'll start with the first screenshot, far right is a character named Doctor Gravity, being played by Donald Faison, who most of you would recognize as Dr. Turk from "Scrubs":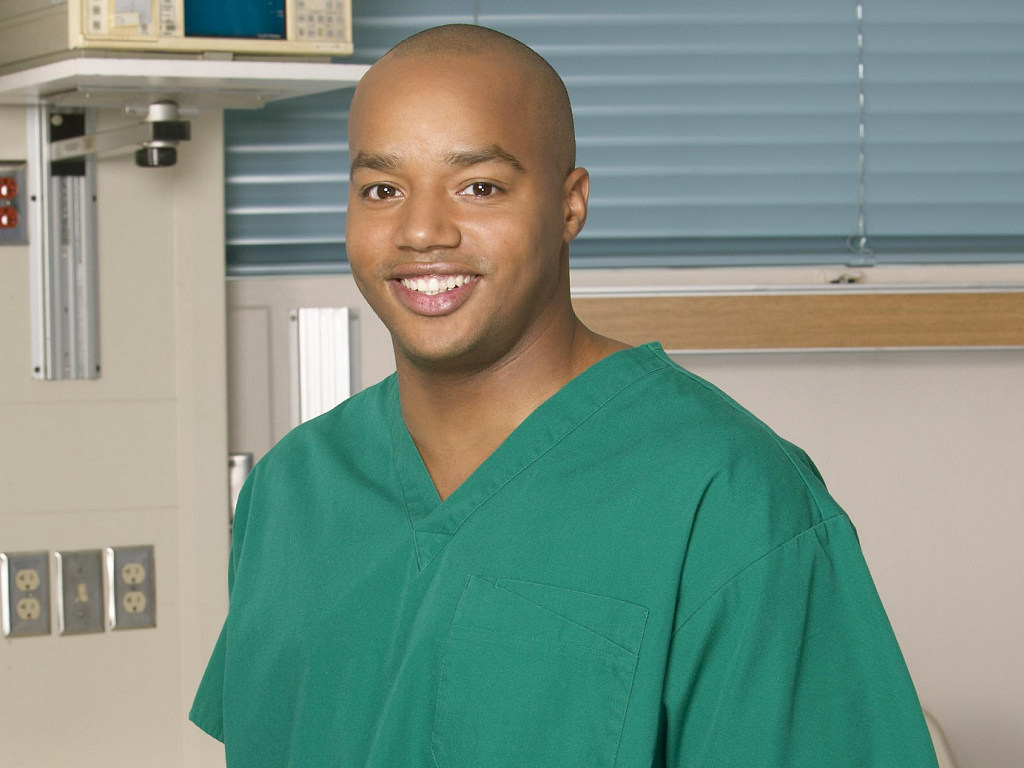 (Source BigSkyFans.com)

And here he is in costume as Doctor Gravity: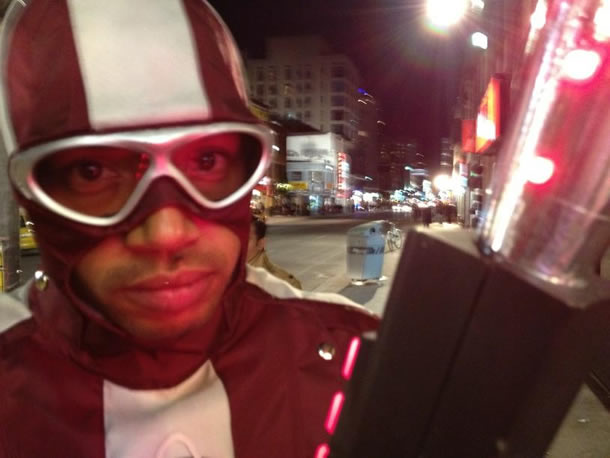 (Source BeyondHollyWood.com)

(Source HitFix.com)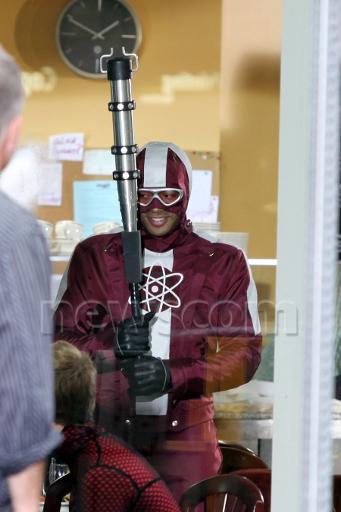 (Source News.com)
Let's continue with the members of Justice Forever: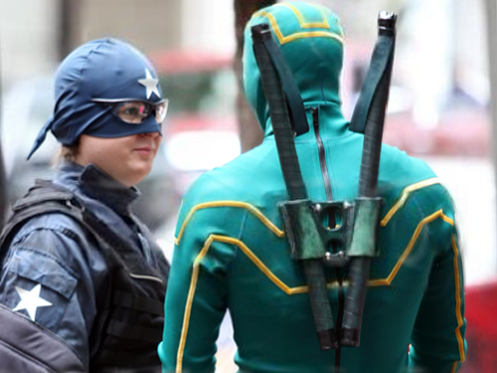 (Source The360DegreeReview.wordpress.com)
The next character in the picture above is Battle Guy, who turns out to be Kick-Ass' real best friend (played by Clark Duke).
Then we have Col. Stars and Stripes, but the rest of the members of Justice Forever are new characters unfortunately, so there isn't much to say about them.
Getting back to the trailer:
We finally see Chris D'Amico's face without costume on, and, well, McLovin has grown up a bit.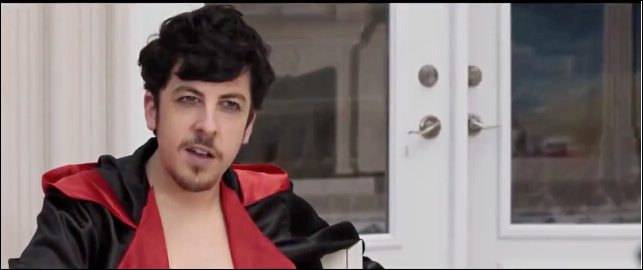 (Source – direct screenshot from the trailer)
"Hence forth I'll be known as, The Mother F*cker"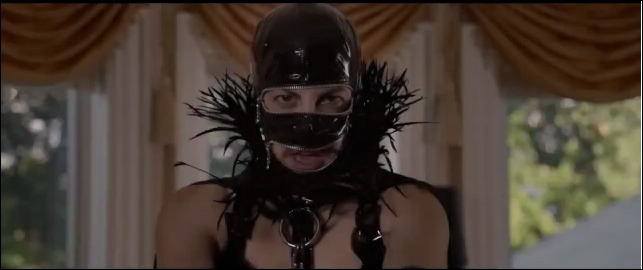 (Source – direct screenshot from the trailer)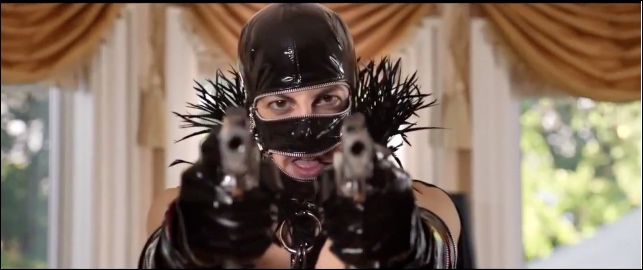 (Source – direct screenshot from the trailer)
Ok, so the name is sort of unoriginal… but the costume probably is too. In my opinion, it looks like a combination of The Gimp (Pulp Fiction), the Wicked Witch (OZ: The Great and Powerful) and Maleficient (Sleeping Beauty). The Gimp's mask, the Witch's shoulder spikes, and Maleficient's pasty white skin with all black clothes…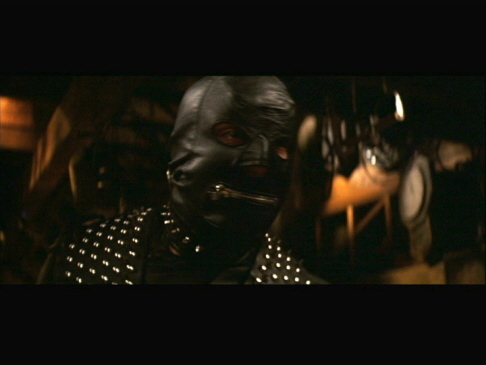 (Source DaveHousley.com)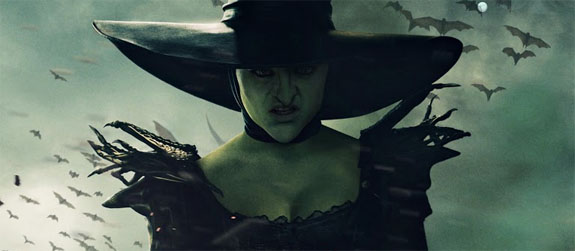 (Source ScreenCrush.com)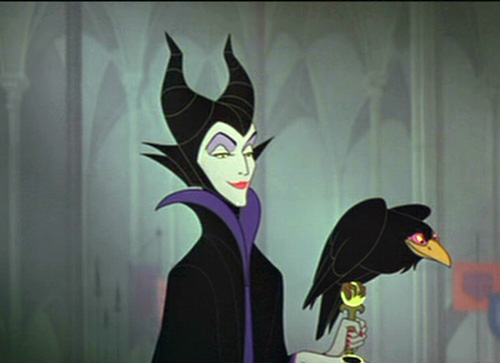 (Source AveOrTagos.gr)
Then, The MF (for short), says he's building an evil army, in response to costumed heroes being outlawed… Sounds familiar… Watchmen, X-men, anyone?
(Source – direct screenshot from the trailer)
Kick-Ass and Hit-Girl somehow get into The Mother F*cker's lair and start the fight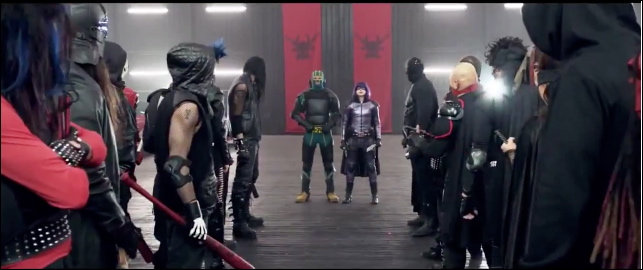 (Source – direct screenshot from the trailer)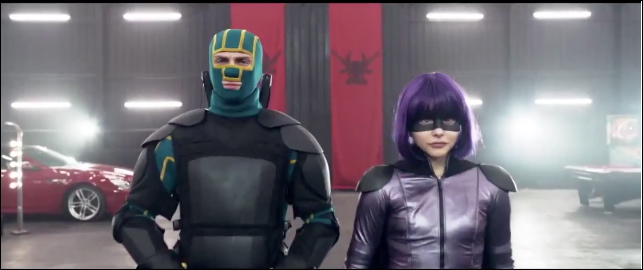 (Source – direct screenshot from the trailer)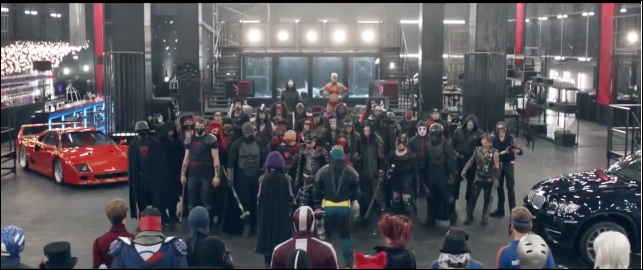 (Source – direct screenshot from the trailer)
Good guys at the bottom and evil on top, with Kick-Ass, Hit-Girl and The Mother F*cker in the middle.
The trailer finishes with Col. Stars and Stripes (Jim Carrey) showing that he's a good guy, but he's ruthless to bad guys, and gives his best John Malkovich impression to end the trailer:

(Source – direct screenshot from the trailer)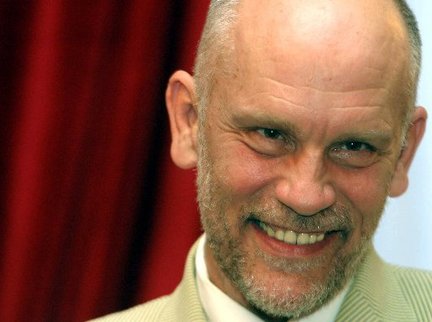 (Source Unimedia.com)
And CONTINUING:
Is Kick-Ass becoming a variation of the X-men movies? 



(Source JoBlo.com)
The similarities:
2 powerful beings (one rich, the other poor) start off not really knowing of each other, but become friends out of peculiar situations after one of their mothers just died, then one of their morals are warped after feeling betrayed by the world. One turns to evil, and the other stands to defend the innocent from his former friends evil doing. One of them has a female partner, who is much younger than them.
In the first movie, they appear to be friends, but the future bad-guy is pretending to be good.
In the sequel, the bad-guy builds an evil army to fight for his cause.
The differences: Kick-Ass takes place in a world where no one has "super powers", they just fight with weapons to defend others. Where as, in X-men, there are people with "mutations" meaning that something in their genetic build up allows them to have heightened abilities. In Kick-Ass, the good guy is poor and loses his mother, where as in X-men, Magneto, the bad guy is poor, and loses his mother.
It makes you question how many movies are that original anymore. AND how many really can be original anymore.
I mean if you make any movie with a general bad-guy theme for example: zombies, aliens, vampires, it becomes very unoriginal very fast… And that's because what can you really do to make it more exciting? Mix sci-fi with zombies, you get Resident Evil, you make the zombies be able to wield weapons, you get Dead Snow, and also Re. Evil. You make an alien movie where aliens try to takeover the world, you get Independence Day, you make it funnier than action-based, you get Mars Attacks. You make the vampires more relatable, and more liked, you get Twilight.
Not a lot is new nowadays, and that's because the form of entertainment is stuck. Let me explain that: the first forms of entertainment were watching fellow citizens fight in the coliseum, then watch them in plays, then listen to things over the radio, then watch them on TV, then see them in movies. The reason that everything in movies has to either flat out remake, reboot or steal every idea in Hollywood, is because the form of entertainment hasn't evolved yet, so we're stuck in this cycle of remaking things that came out 40 years ago with todays technology but we're not evolving away from movies. There is no longer any fights in the coliseum, but there are still plays, so whatever is next (3D TV does not count), will probably not replace movies, but just add something new to entertainment.
What you think about the path entertainment has taken? Are you excited to see Jim Carrey's comeback? I Kick-Ass 2 a rip-off?
Let us know in the comments below!
Thursday March 14, 2013. 4:47 am
by James