The Hangover 3: "Not just the first Hangover movie in a different country…"
There's no wedding, there's no bachelor party, and apparently no crazy (un)forgettable night. About a year ago, Zach Galifianakis let slip that the plot of H3 will be involving him escaping from a mental institute, and since then we've learned that his character Alan has a mental breakdown and ends up in a mental hospital because he can't handle the death of his dad (Jeffrey Tambor). Recently they filmed the funeral scene and Todd Phillips posted this photo on instagram along with others: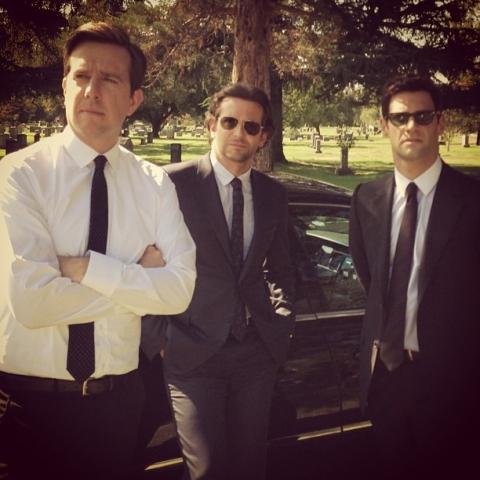 There were some others, some that make sense and some that really don't…
Alan driving a sportscar on the highway with a beer close. Kinda makes sense.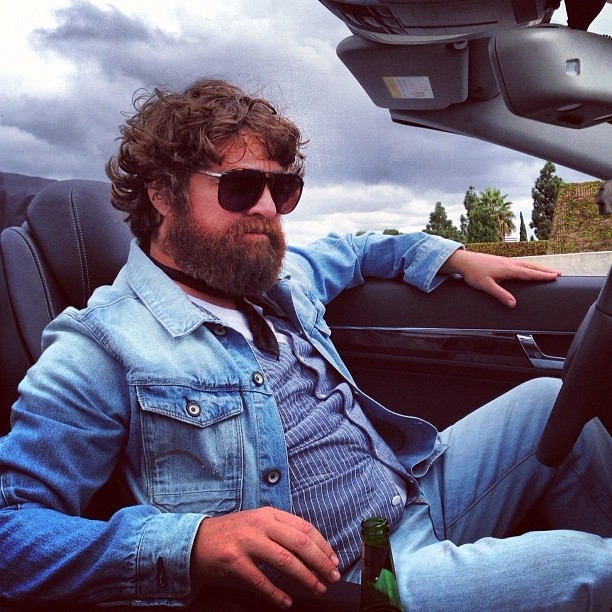 Alan and Doug hanging out in the desert… makes a little less sense, but ok, let's continue
.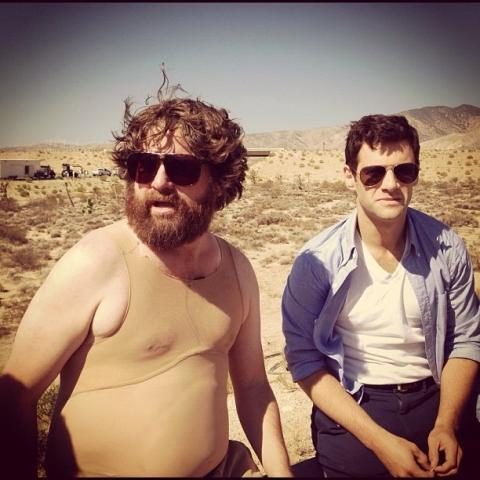 Mr. Chow also in the desert, with what looks like his stunt double in the background
.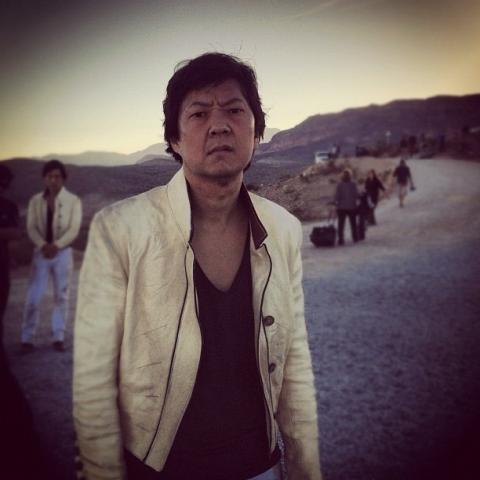 And I'd say here's where it gets weird/odd/unexplainable flat out confusing. Here we see Mr. Chow in what appears to be a highway patrol officer's uniform with a gun pointed at someone… and I thought he got arrested in the last movie… bit of a step up for him.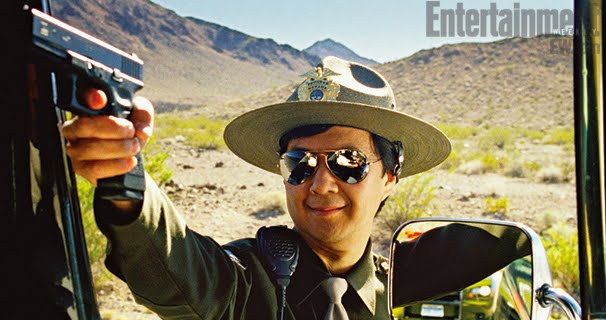 But they continue to get more and more odd… like who are these people…?
Also from Todd Phillips' instagram: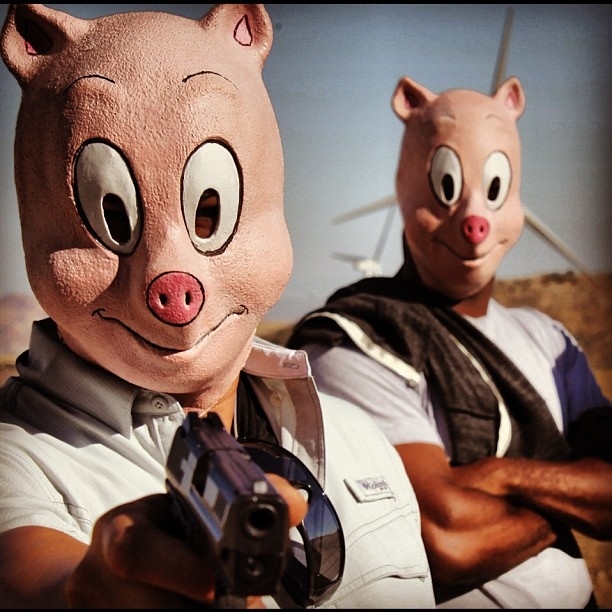 And I think the best part is the cameo's we might see…
Pretty normal picture of the crew wait, is that John Goodman? What's he doing there?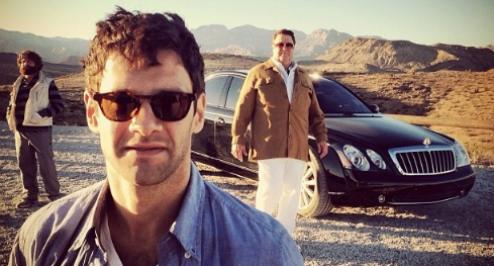 But jolly-old John Goodman isn't the only one that seems to be on set for an unknown reason… We could probably be seeing appearances from Melissa McCartney and returning appearances from Heather Graham and Mike Epps.
From Screenrant.com: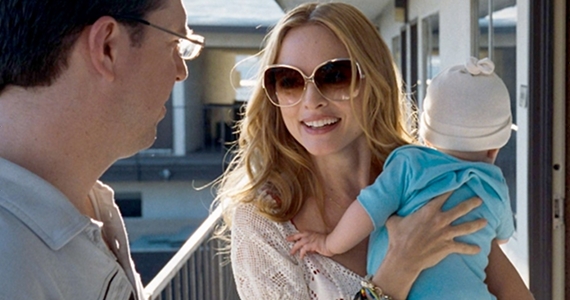 Didn't Stu say he would come back to Las Vegas to get to know her? and then he's all the sudden met and married a different girl… I think the cameo is overdue.
Mike Epps went on the radio to tell the public that he will be returning to the Hangover series to "play a black guy again…"
From ScreenRant: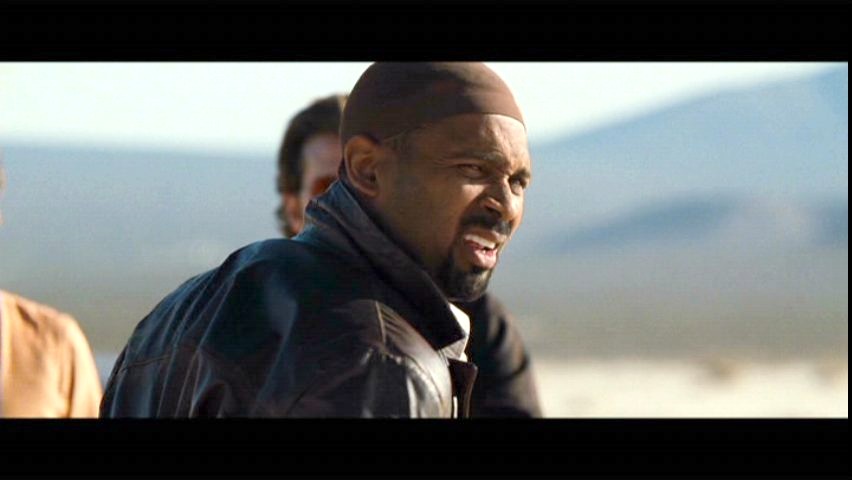 Epps played a drug dealer that sells Alan "roofies" by accident, and starts the whole story… what could he do when he returns?
I like hearing rumours about hearing who could possibly be in a scene or two, but I was disappointed that the Hangover 2 didn't get to have Liam Neeson in it. Originally Neeson was set to play the tattoo artist in Bangkok, but Todd Phillips said it just didn't happen because of scheduling conflicts, what a shame.
Personally the most disappointing news was that former U.S. president Bill Clinton was not going to be in the movie… Apparently he came to the set unannounced because he was a fan of the first movie. He visited the set and had dinner with the cast, but that's it.
So what will the Hangover 3 look like and what could we see from it? Todd Phillips, when fans were mad about the Hangover 2 being similar to the first, he responded with: "If something ain't broke, then why fix it?" but I guess he changed his mind about the third instalment because decided to make this the final chapter for the Wolfpack, and decided to not repeat the template of the first two. Many fans were disappointed with the sequel because the two plots were very similar…
a bachelor party gets out of hand because Alan (Zach Galifianakis) accidently drugs everyone, and they wake up not being able to remember anything from the night, including stealing an animal, Ed Helms hooking up with a stripper, someone missing a body part (Stu's tooth in H1 and Teddy's finger in H2) and a different character finding it, and finally the realization that they have lost one of their group and the panic that ensues. It continues until two scary characters come to get their animal back and one of the group gets hurt (Alan gets punched by Mike Tyson, and Phil gets shot by one of the Russians). Oh and also, just when everything gets about as bad as it could be, Stu (Ed Helms) sings one of his songs to almost recap what's happened so far. The icing on the cake would be that just when they've given up, and Phil (Bradley Cooper) is calling one of the wives to explain that they really f*cked up (and again in H2), Stu pieces everything together and tackles or fights the phone out of Phil's hand because he manages to piece everything together in his head, just at the right moment, twice. And they make it back in time for the wedding and everything goes well. After there's dancing and partying, they find their camera from the night before and look at all the disturbing photos, reacting really terribly to the first and the credits role as the rest are shown…
Personally, I liked the Hangover Part 2 because of three reasons:
1) Ken Jeong actually had a part
2) Doug barely had a part
3) It was a good remake of the original, I'm just glad they kept the characters the same (that last point sounded more like sarcasm in my head)…
1) Ken Jeong is one of those actors who can just say three words and make an entire room almost die laughing:
From ScreenRant:
He is one of my favourite actors at the moment and he continues to entertain me, I don't think I couldn't possibly ever get enough, I especially like him in Community, he has so many great moments:
http://www.youtube.com/watch?v=8blJYyWMPVE
The funny thing about Ken Jeong is that before he was Leslie Chow in the Hangover he was Dr. Jeong, physician. Check out his Wikipedia page: http://en.wikipedia.org/wiki/Ken_Jeong
Crazy stuff…
Should they have done a third identical Hangover movie just to be safe? Is this going to be the best or worst Hangover movie? Is bringing Heather Graham back a good idea?
Comment below with your thoughts!
2/25/2013, 10:03 pm
by James