The biopic about the founding of Apple Co. titled "jOBS", coming out April 19, 2013, is starring Ashton Kutcher and Josh Gad. Personally, I was excited when I heard because it's a fantastic casting for the image of the movie, because Ashton Kutcher looks the part (see images above), but that's it, he just looks the part, he's pretty much the same as usual otherwise.
Steve Jobs Review:
Unfortunately (in my opinion), Kutcher has a tendency to play a similar character with a different shirt on… in almost everything he's ever been in… Everything from That 70's Show to Dude Where's My Car to No Strings Attached, Kutcher always plays the loveable idiot, who gets girls, and gets by on his good looks…
The only new character Kutcher has played in his entire career is Walden Schmidt (Two and a Half Men), but don't be too fooled by this new character (for those of you who don't watch the show), Kutcher plays Schmidt, a loveable idiot, who gets lots of girls, and who gets by on his good looks because when he's beside Alan Harper (Jon Cryer), Kutcher isn't as funny a target. But again, don't be fooled, just because Alan is probably the most depressing/pathetic character on any sitcom today, doesn't mean Schmidt is that different than Kutcher's previous roles.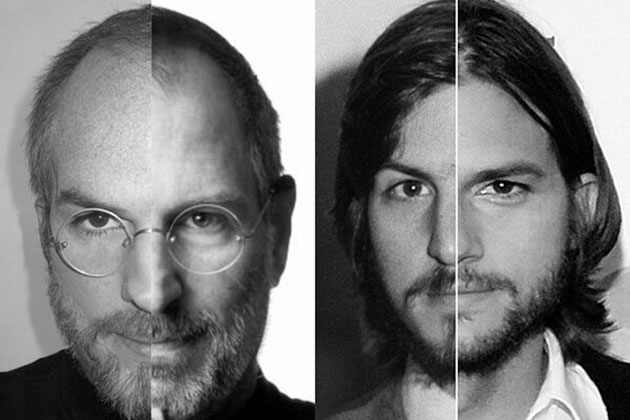 The one difference between Schmidt and Kelso (or any other Kutcher character), is that Schmidt is rich and sort of smart. I say sort of smart because Schmidt is a billionaire, but even from the first episode, he can't get things right:
His wife left him. His best friend hates him. And the worst of all: his new best friend is Alan Harper, who is (throughout the entire series referred to as) a parasite, which is just about right.
So although the Two and a Half Men writers have tried to trick us by telling us Schmidt is smart, Kutcher pulls through and shows that some actors just get by on looks, and not acting…
So that brings me back to jOBS (<– weird title… I would have gone with "Jobs"), Kutcher would be the right guy for the part, IF it were all just still images, and no actual acting necessary…
Like I said before, Kutcher is good at playing the loveable idiot, and shouldn't be trusted with playing one of the most influential men in technology in the last century.
Watch the first clip from "jOBS" (2013) and tell me what you think in the comment section below:

2/6/2013 – 7:30 pm.
By James